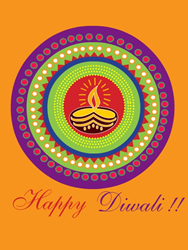 Elk Grove, CA (PRWEB) October 20, 2014
Every year, the gotfreecards.com team gets busy creating new themes and templates for free ecards long before the fall and winter holidays actually roll around. The website includes vibrant ecards and printable cards for global holidays and festivities such as Diwali, that falls on October 23 this year. This important Indian holiday is celebrated as a five-day holiday by over a billion people around the world as a mark of the victory of good over evil. The collection of cards is expected to cater to a wide audience across age groups and geographical locations. Themes this year include whimsical ecards with Lord Ganesha himself arriving on his bicycle to greet the recipient to classic ones featuring the glow of lighted "Diyas"(earthen lamps).
Visitors coming to the site for other fall/harvest season holiday ecards will not be disappointed either. From Halloween and Thanksgiving cards to Christmas and New Year's, gotfreecards.com offers a large number of free ecards and color-in printable cards for every occasion.
GotFreeCards.com has been creating ecards with innovative, online personalization features since 2008. The company's offerings include free ecards, personalized photo cards, printable birthday cards, invitations and various other user-friendly features and products related to special occasions, events and holidays. The website includes hundreds of designs for various multicultural and everyday occasions such as Birthday cards, Christmas Ecards, Halloween cards, Thanksgiving cards and others.