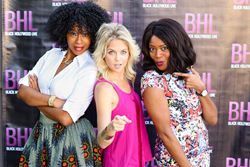 Hollywood, CA (PRWEB) October 20, 2014
Beverly Johnson: Iconic supermodel, actress, author and entrepreneur discusses receiving the 2014 Quincy Jones Exceptional Advocacy Award and the 6th annual charity celebrity fashion show on Maria Menounos' Black Hollywood Live Network.
On receiving the 2014 Quincy Jones Exceptional Advocacy Award and why The Global Down Syndrome Foundation is important to her, "I am the international spokesperson for The Global Down Syndrome Foundation. My niece and my first cousin have down syndrome so I have been on this journey in trying to search out the special needs that these children have....it's something I've always wanted to do. One way that you can get involved is write your congressman. It is the least federally funded condition that does not discriminate against anyone."
Beverly divulges a few of her personal beauty secrets on how she maintains her flawless skin at 60 years young, "I'm really big on cleansing right now...I never go to bed with makeup on and water is really important. There are so many great products that you can buy over the counter that really work like Avon and Roc. The four keys of looking great are eating good, water, sports and sex!"
When asked about today's standard of beauty, face lifts and botox..."Of course I have botox...it helps me with my headaches! I think we have come a long way with beauty and I think its all great, we're matching the superficial the outside with the inside and every girl falls in love with her plastic surgeon!"
Ms. Johnson is the first African-American supermodel. Her stunning features and super stardom would eventually land her on the cover of Vogue magazine in 1974, making world history as the First African-American model to ever grace the acclaimed magazine's cover, and forever changing the beauty ideal in the fashion world. Beverly's remarkable career, which spans four decades, is a showcase of accomplishment: from model to mom to actress, author, activist, businesswoman, TV personality, and finally an icon. In addition to being an advocate for Down Syndrome, Beverly's career continues to flourish. She is the Founder, Chairwoman and CEO of BJE LLC. The Beverly Johnson Luxurious Lifestyle Brand of products can be found on Beverly's Online Store at http://www.beverlyjohnson.com. These products are the "highest quality" luxurious products in Hair, Beauty, Cosmetics and Fashion for the global Multi-Cultural market for women of all colors. Beverly is also currently signed with Simon & Schuster to publish her third book, a memoir, which is to be published in early 2015.
Links to Beverly Johnson's appearance on Black Hollywood Live can be found at:
YouTube: http://youtu.be/0wqJAmV17Qo
Web: http://www.blackhollywoodlive.com/2014/10/17/fashion-411-wbeverly-johnson-october-17th-2014-black-hollywood-live/
iTunes: https://itunes.apple.com/us/podcast/fashion-411/id676530394?mt=2