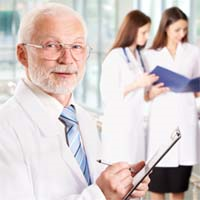 New subcutaneous lesions can be benign even when arising at pleural puncture sites...
Raleigh, NC (PRWEB) October 21, 2014
A new published report suggests that cancer doctors should hold off on treating catheter pathway tumors with radiation until they have first confirmed that they are malignant. Surviving Mesothelioma has just posted the details on its website. Click here to read it now.
Doctors at the University of Western Australia are reporting on two cases of mesothelioma patients who developed benign tumors along the path where pleural catheters were inserted. Most such tumors are assumed to be mesothelioma that was "seeded" by the needle insertion.
"These cases remind clinicians that new subcutaneous lesions can be benign even when arising at pleural puncture sites of malignant pleural mesothelioma patients," writes Dr. Ranjan Shrestha, lead investigator on the study.
According to the study in Bronchology and International Pulmonology, in both cases, the tiny tumors resolved themselves without any treatment.
"Many mesothelioma patients find themselves with new tumors after a pleural intervention," says Alex Strauss, Managing Editor of Surviving Mesothelioma. "This study suggests that at least some of these patients could avoid additional treatment if they followed the researchers' advice."
To read the details of the new study, see Catheter Path Tumors in Mesothelioma Patients May Be Benign, now available on the Surviving Mesothelioma website.
Shrestha, RL et al, "Pseudo-tumor mimicking indwelling pleural catheter tract metastasis in mesothelioma", October 2014, Journal of Bronchology and Interventional Pulmonology, pp. 350-352, http://www.ncbi.nlm.nih.gov/pubmed/25321457
For nearly ten years, Surviving Mesothelioma has brought readers the most important and ground-breaking news on the causes, diagnosis and treatment of mesothelioma. All Surviving Mesothelioma news is gathered and reported directly from the peer-reviewed medical literature. Written for patients and their loved ones, Surviving Mesothelioma news helps families make more informed decisions.