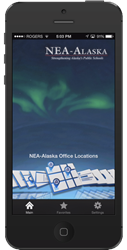 This will speed our communications capabilities, while at the same time put timely advocacy capabilities into the pockets of our members and the public at large. - Nance Larsen
Anchorage, Alaska (PRWEB) October 20, 2014
Now available through the Apple iTunes and Google Play stores, the NEA-Alaska mobile applications were developed to engage their 13,000 members, the public and legislators using one of the top mobile app service platforms available today. Central to launch is the mobile application's ability to allow members to contact and lobby their legislators on key issues.
The advocacy platform is complemented by postcard creation capabilities, allowing users to create customized messages supporting Alaska's public education system, and share the content directly with legislators and their friends using social media. The applications also include access to the NEA-Alaska's latest Twitter and Facebook postings along with their latest YouTube videos.
The mobile apps include push notification capabilities to allow NEA-Alaska to send messages directly to their members and the public with the very latest news and updates. This powerful tool can be used to encourage the timely viewing of public service announcements, engage participants in calls to action or highlight the latest campaign results.
"These mobile apps modernize our approach for engaging both the public and our membership," said Nance Larsen, communications director for NEA-Alaska. "This will speed our communications capabilities, while at the same time put timely advocacy capabilities into the pockets of our members and the public at large."
NEA-Alaska's mobile applications are based on services provided by Purple Forge. Purple Forge is the world's leading provider of mobile applications to associations and advocacy organizations, who have deployed apps for other state chapters of the NEA, including Missouri, New Mexico, and New Hampshire, and who have also deployed the mobile applications for the Ontario Secondary School Teachers Federation in Canada.
"NEA-Alaska has now added mobile apps to its list of comprehensive activism and engagement tools," shared John Craig, VP Sales and Marketing of Purple Forge. "This greener and more engaging communications medium will support their campaign initiatives for years to come."
About Purple Forge
Purple Forge sells subscription based services to organizations looking to engage their stakeholders using the latest mobile application technology and leveraging community engagement and social networking best practices. Purple Forge is an award-winning firm led by seasoned mobile communications and Internet technology veterans. Our mobile applications allow organizations to broadcast, share, and receive feedback from their target audience real-time, allowing them to foster long-term, engaged relationships.
Contact: John Craig, john.craig(at)purpleforge(dot)com
About the NEA-Alaska
NEA-Alaska, an affiliate of the National Education Association, is an organization of 13,000+ members who work in Alaska's public schools. Our diverse membership includes teachers, library media specialists, counselors, psychologists, physical and speech therapists, school secretaries, custodians, classroom aides, cafeteria workers, maintenance workers and other support professionals.
Contact: Nance Larsen, Nance.Larsen(at)neaalaska(dot)org