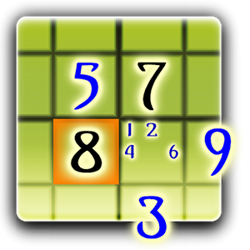 (PRWEB) October 21, 2014
A recent marketing effort by the developers at AI Factory Limited describes the virtues of playing Sudoku Free, which is newly optimized for Intel® Atom™ tablets for Android*.
The document details the advantages of playing the wildly popular logic game on the latest tablets, including 1500 different puzzles, five levels of difficulty and a beautifully designed interface for an enhanced gaming experience. This version also features helpful hints and aids as well as a progress tracker that lets users monitor their own completion times.
Since Sudoku has taken off with such force, the publication notes, it only makes sense for users to indulge in the brain-building activity on their powerful mobile devices. With much more variability than print, the Sudoku Free application provides hours of entertaining challenge.
About AI Factory Limited:
AI Factory is an independent UK-based company, with headquarters in Pinner, near London, which was incorporated in April 2003. For more, visit: http://www.aifactory.co.uk/
About the Intel Developer Zone
The Intel Developer Zone supports independent developers and software companies of all sizes and skill levels with technical communities, go-to-market resources, and business opportunities. To learn more about becoming an Intel® Software Partner, join the Intel Developer Zone. For more information, visit: https://software.intel.com/.
Intel, the Intel logo and Intel Inside are trademarks of Intel Corporation in the U.S. and/or other countries.
*Other names and brands may be claimed as the property of others.
Copyright © 2014 Intel Corporation. All rights reserved.