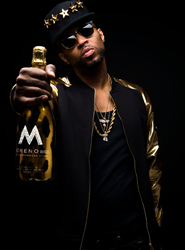 Working with Moreno BHLV is an amazing opportunity for me. I joined the team just as the company was taking off, and I believed in the product from day one. ~ Drumma Boy
Los Angeles, CA (PRWEB) October 20, 2014
2014 has shaped up to be an outstanding year for Christopher "Drumma Boy" Gholson, the three-time Grammy Nominated Producer, Composer, Artist. Atop acquiring lead single placements with artists such as Young Jeezy​ ("Me Okay")​ and August Alsina​ ("No Love" featuring Nicki Minaj)​ and scoring national commercials, the accomplished musician has added ​National Brand Ambassador to his resume. The Drum Squad CEO is now the new face of California-based sparkling wine Moreno.
As part of his agreed upon Moreno BHLV contract, Drumma Boy will appear in television commercials and create events nationwide to increase the overall awareness and sales for the growing lifestyle brand. "DJ Nina 9 introduced me the the company's owners via a YouTube video I produced conducting the Memphis Symphony Orchestra in honor of my father's retirement. After meeting the owners, I realized we both had similar goals and so far our partnership has been a perfect marriage, delivering spectacular results," Drumma expressed.
To date, Drumma Boy has curated a series of events throughout the United States on behalf of the award-winning beverage. "Between Memphis, Atlanta and Los Angeles, I've presented wine tastings, nightclub events and introduced Moreno BHLV at an array of high profile private events. It has been my pleasure to bring Moreno BHLV to my audience and my intimate network, where taste is appreciated!" His first commercial campaign for the brand aired on October 14, during the 2014 BET Hip Hop Awards, where he was nominated for the Producer of the Year Award.
Drumma Boy continues to conduct his own​ legacy, successfully blazing his own trail. It was a hot summer for the Conductor, as he secured and showcased a handful of mainstream projects ​and placements. His production for Future's ​"Coupe" ​was​ featured ​in ​Adult Swim's​ ​Single​ ​Series alongside music producers and artists including​ ​synth-disco pioneer Giorgio Moroder, stoner rock legends Sleep, noise auteur Tim Hecker, EDM's Machinedrum​ and ​synth-punk Destruction Unit. Drumma's production and vocals are also the centerpiece of Shoe Carnival's national back to school commercial, currently airing nationwide.
A lover of all things art, the enterprising businessman added fashion designer to his repertoire with the launch of his urban men and women's clothing line Fresh Phamily, featured in the Wall Street Journal. He also opened "G Factory," a 20,000 square foot creative space in Memphis for film and TV show production, artists and painters to hone their skills.
Drumma Boy has also been lending his musical talents to NBA team Memphis Grizzlies' talent department, producing their live halftime shows. The star also finds time give back to his local community as well as communities around the world via Drum Squad Foundation. By delivering practical messaging to youth based upon real life experiences, Drum Squad Academy's mission is to provide leadership development and community service to at-risk youth in Memphis, Atlanta and South Florida, while stimulating Shelby County Schools (SCS) alumni and corporate giving.
As with any great talent, their song never ends. Their discography continues to grow, as does their multifaceted career and list of accomplishments. Fast forward, Drumma Boy's plans for the fourth quarter involve perfecting his trap meets symphony compositions as a producer and the official launch of Drum Squad. Drum Squad is set to make a bang at Miami's Art Basel in December and pop in for a cameo onto the streets of Park City's Sundance Film Festival in January 2015. Fans of the songsmith stand-by, as Drumma is a master of surprise.