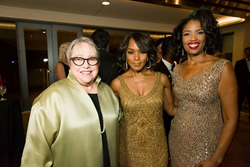 One can't help but be inspired by the efforts and successes of our honorees, and I am sure that all who were present departed with a renewed commitment to helping the children and families served by this nonprofit
Los Angeles, CA (PRWEB) October 19, 2014
Special Needs Network kicked off the Los Angeles Fall gala season with its 9th Annual Evening Under the Stars gala this past Saturday, October 4, 2014, with more than 500 guests. Held at John Calley Park on the Sony Studios Lot in Culver City, CA, the event themed "A Toast to Old Hollywood" brought out A-list celebrities, influential legislators and community leaders to help raise money for autism and Special Needs Network's health programs including its autism community health clinic on the historic Martin Luther King Hospital campus in South LA next year. The clinic will provide access to quality medical and developmental specialists to children with disabilities and their families.
The gala, sponsored by Sony Pictures and Toyota and produced by The Todd Group, raised $300,000 to benefit children with autism and their families. The proceeds from the gala will help Special Needs Network continue its work on ending disparities in diagnosis and interventions for children of color who have autism.
Award-winning actress Angela Bassett was honored with the Trailblazer Award for her remarkable portrayal of historical African American women including Betty Shabazz; and legendary singer and percussionist Sheila E. received the Everyday Advocate Award for her nonprofit work on behalf of children who suffer from a range of disabilities. LA Care's CEO, Howard Kahn was presented the Vanguard in Healthcare Award and Dr. Richard Vladovic, president of LA's Unified School Board of Education received the Leadership in Education Award.
No gala on a studio lot is complete without an Oscar, Emmy and award-winning cast, and there was no shortage of celebrities and influencers on hand to support Special Needs Network and the kids and families they serve. Kathy Bates, who presented a touching tribute to Angela Bassett, her co-star on FX's America's Horror Stories, joined Kym Whitley & Wendell James (Raising Whitley), Omarosa, Judge Kevin Ross (America's Court), LA County Supervisor Mark Ridley-Thomas, Congresswoman Karen Bass, Congresswoman Diane Watson (Ret.), actresses Bai Ling and Judy Tenuta, Grammy-nominated artist B. Slade and lauded Latin and R&B artist DW3.
The event was chaired by California Assemblyman Sebastian Ridley-Thomas, LA Times publisher and CEO Austin Beutner, and Sony vice president Keith Weaver. Guests enjoyed a silent auction featuring original art work created by kids on the autism spectrum, an awards show, dinner catered by Wolfgang Puck Catering and live entertainment.
"It was a privilege to chair the 2014 Evening Under the Stars Gala benefitting Special Needs Network," said Assemblymember Sebastian Ridley-Thomas. "One can't help but be inspired by the efforts and successes of our honorees, and I am sure that all who were present departed with a renewed commitment to helping the children and families served by this nonprofit." Ridley-Thomas also pledged to continue the work of retiring Senate President Pro Tem Darrel Steinberg and others who have dedicated much of their careers to helping the population served by Special Needs Network.
One of the evening's most magical moments occurred when Sheila E offered to sign one of the performers, Rio "Soulshocka" Wyles to her record label. Wyles was diagnosed with autism as a child. Another highlight came when parent-advocate Cheryl Green took the stage with her teenage daughter Irene. Diagnosed with autism at age two, Irene had such severe behaviors that she and her mom were forced off of an airplane. With the help of Special Needs Network, this fall Irene became the first girl with autism to be selected to the varsity cheerleading team at Hollywood High School!
"We are grateful to our gala chairs, sponsors and guests who made the event memorable and who stood with us to say that underserved kids with autism and a range of disabilities deserve the best in medical care," says Special Needs Network's president and co-founder, Areva Martin, Esq.
"With autism now impacting one in 68 children and autism therapies being covered by both commercial and government-supported health plans, now more than ever, underserved communities need access to high quality health care," says board member, Bonnie Berry LaMon. "We know that if children receive early intervention therapies, they can go to college, live independently and become productive members of society," says LaMon.
To learn more about Special Needs Network, and their programs and to get more information about Evening Under the Stars, visit specialneedsnetwork.org or call (213) 389-7100. Special Needs Network invites anyone with questions or concerns about autism and other developmental disabilities to contact their office for information on available resources, programs and service providers.
ABOUT SPECIAL NEEDS NETWORK
Special Needs Network (SNN) is based in Los Angeles and is California's leading grassroots autism advocacy organization. As a nonprofit organization, SNN was established to help families faced with autism and other developmental disabilities. The organization focuses on raising public awareness, impacting public policy, increasing education and access to resources for families, children and adults.