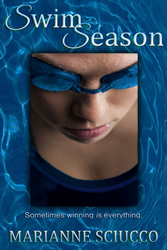 I fell in love with the sport, and wanted to write a story about the whole experience, to show others who may not be as familiar with the sport how much fun it is, and how hard these kids work.
Middletown, NY (PRWEB) October 22, 2014
Indie author Marianne Sciucco recently released a new YouTube video in which she talks about the inspiration for her high school novel "Swim Season," and what she hopes to accomplish with this book.
"I'm a Swim Mom," says Sciucco, "and my daughter Allison is the inspiration for 'Swim Season.'"
Sciucco's daughter has been swimming all of her life, in swim club, high school, and college. "When she joins a team, I join the team," Sciucco says. "I've almost never missed a meet and have helped out at meets and fundraising activities too."
"Swim parents are a unique breed," she says, "often traveling great distances to sit through a meet for hours, waiting to watch their child swim for just a few minutes."
"I fell in love with the sport, and wanted to write a story about the whole experience, to show others who may not be as familiar with the sport how much fun it is, and how hard these kids work," says the author, who has never swam competitively.
Sciucco says swimming often takes a back seat to other sports. "Unlike other sports in America, swimming doesn't get a lot of attention. Other than when we're in the midst of the Olympics and everyone is watching Michael Phelps break another world record, swimming is sort of forgotten, yet it's going on all the time, everywhere. On many different levels, children of all ages and even adults are participating in competitive swimming. I wanted to bring a little bit of that to the readers in a book form, a story form, so they could get a little taste of what it's all about, and maybe inspire a few kids to try swimming because it's a great sport."
In "Swim Season," Aerin Keane, the new girl on the swim team, challenges a longstanding school record attached to a $50,000 scholarship. "The premise of this story is pure fiction," says Sciucco, "but the dedication and determination of the girls on the team is real." She adds, "All locations and characters are also fictional."
Sciucco plans to publish "Swim Season" in the spring of 2015 in electronic, paperback, and audiobook. "My goal is to make the book available to any reader who is interested in reading it, on whatever platform and in whatever way they choose or desire to read."
A crowdfunding campaign through Pubslush is next on the agenda. "This is a way to test the waters, so to speak, to give readers a chance to pre-purchase the book and to raise the funds needed to publish it."
Sciucco is no novice to self-publishing. Her debut novel, "Blue Hydrangeas," an Alzheimer's love story, was self-published in April 2013.
"Independent publishing is a costly endeavor," she says. "An author needs content and copy editors, book designers, cover artists, and manuscript formatters to prepare the book for publication. ISBN's must be purchased for each version - paperback, Kindle, iBook, audio, etc. Advertising and promotional costs are a huge barrier. It all seems very easy at first - format it yourself and upload to Kindle, no worries. But for the author who wishes to make a big splash (no pun intended) a publishing and marketing campaign can involve and cost much more than expected. I learned this the hard way with 'Blue Hydrangeas.'"
"Blue Hydrangeas" is the sad but beautiful story of a retired pair of Cape Cod innkeepers struggling with the wife's Alzheimer's. Amazon readers give it 4.7 stars. Reviewers say: "It's rare for an author to engage the reader so adeptly and genuinely." "A little reminiscent of 'The Notebook,' but more heartwarming." "Wonderfully written! Warm. Tender. Thoughtful." It's available in paperback, ebook, and audiobook. Readers can find it on Amazon, Audible, iTunes, Barnes and Noble, iBooks, Vook, the Create Space eStore, and other online retailers.
About the Author
Marianne Sciucco is not a nurse who writes but a writer who happens to be a nurse. A lover of words and books, she dreamed of becoming an author when she grew up but became a nurse to avoid poverty. She later brought her two passions together and writes family dramas with real medical issues, clean fiction without overt sexuality, violence, or objectionable language. Follow Marianne's Adventures in Publishing and keep up with her on Twitter, Facebook, and Goodreads.