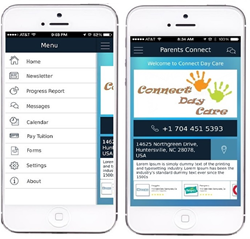 Custom Child Care App to Connect Parents to their Child Care Provider
Charlotte, NC (PRWEB) October 21, 2014
O.H.H. Technology's new Parents Connect App (http://www.ParentsConnectApp.com) allows childcare providers to use a web-based portal to send real-time updates to their students' parents through a custom app designed for that individual child care provider and gives daycare's the ability to quickly send messages to the parents, newsletters, create forms and daily progress reports of the child or children (photos/video).
"I'm a dad and I know that more often than not, parents who are just going back to work after maternity are understandably finding it hard to disconnect," said Greg Harrison, CEO of O.H.H. Technology "With the Parents Connect App, we're trying to find a happy medium for those parents so that they can work more closely with their child care provider to get more frequent updates to their handheld devices which will bridge the communications gap that parents struggle with"
Not only does the Parents Connect App facilitate the communications of daily events such as lunch calendars, activity calendars directly and sync it directly to the parent's smart phone or tablet, but also allows parents to pay tuition through the interface.
Child Care Centers can purchase the Parents Connect App for $89 per month. Parents can then download the app at no cost and enable them to connect to their childcare provider and start receiving update of their child's development.
For more information visit http://www.ParentsConnectApp.com.