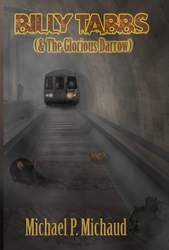 There aren't any books quite like "Billy Tabbs," which truly has something for all ages
Pasadena, CA (PRWEB) October 20, 2014
A youthful vagrant, Billy Tabbs has been living in the streets for as long as he can remember, scratching out a pitiable existence in a city that doesn't much care if he lives or dies. Amidst rumors that his kind are disappearing from the alleyways and the overpasses, Billy is recruited into a bizarre homeless sect living in the underbelly of high society. It is here where he meets Darrow -- the mysterious and volatile leader of an organization committed to escalating acts of civil disobedience, an organization meant to force the people of the city toward equal respect for all inhabitants of society.
Following a brazen public initiation, Billy is accepted into the group, soon becoming a valued member. However, as their movement gains popularity and their own numbers continue to swell, can they avoid becoming that which they'd originally set out to fight? Compounding this disturbing trend is the growing divide among their leadership, with their ideology ever teetering between violent and non-violent activism.
Equal parts harrowing, controversial, and humorous, "Billy Tabbs (& The Glorious Darrow)" explores decadence, homelessness, and the lack of compassion exhibited toward society's most vulnerable demographics. Pre-release reviews show that there aren't any books quite like "Billy Tabbs." A Book Lover's Corner calls it "A Wonderful Book", and Library Grits says, "I think it will become one of 'those' books that everyone needs to read." Actor/social activist Mariana Tosca writes that Billy Tabbs is "an engaging and crisply compelling parable for the 21st century," while Joanna Harkin, Founder/Director: Alliance for Stray Animals and People, adds that "Tabbs" is "Riveting. Thought-provoking. I loved-loved-loved this book!" Advance community reviews can also be found on the book's Goodreads page, where it currently holds a plus-four-star rating. The book is appropriate for ages 14 to adult, with different levels of nuance for all ages.Slated for release November 3, the book is available for pre-order on Amazon.
The author will begin his book tour on October 26 in Oakville, ON, CA. Other cities on his tour are St. Catharines, ON, London, ON, Ottawa, ON, Whistler, BC, Seattle, WA, and Portland, OR. Follow him on https://www.facebook.com/darrowknows [Facebook or visit his website for full event details.
"Billy Tabbs" marks the first of Bitingduck Press's 2014-2015 Young Adult theme, which aims to bring smart, incisive fiction and nonfiction to early teens and up. Founded in 2012 by two active scientists, the press's editors are physicists, biologists, astronomers, and chemists who all love fiction – from the realistic to the fantastic, from the scientific to the magical. The press distributes through all major e-distributors as well as distributing print through Small Press Distribution of Berkeley, CA. Authors interested in submitting manuscripts should follow the instructions on the press's website.