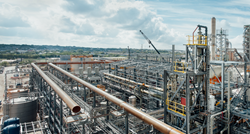 "SkyMine® is more than a green technology – it's a smart business decision that makes money," said Joe Jones, Skyonic CEO.
Austin, Texas (PRWEB) October 20, 2014
Designed to be both beneficial for the environment and profitable for business, Skyonic Corporation will open Capitol SkyMine, the first-of-its-kind, commercial-scale carbon capture and utilization facility, on Tuesday, Oct. 21. Located in San Antonio at Capitol Aggregates, an existing cement plant, the $125 million Capitol SkyMine will have a total carbon impact of 300,000 tons annually, through the direct capture of 75,000 tons of CO2 and transformation into solid, usable products, like baking soda (sodium bicarbonate), bleach and hydrochloric acid (HCl).
Using Skyonic's patented, groundbreaking SkyMine® technology, Capitol SkyMine is expected to generate approximately $48 million in revenue and $28 million in annual earnings – all from greenhouse gas emissions that previously would have been released into the atmosphere.
"The Capitol SkyMine facility is the first step in our vision to mitigate the effects of industrial pollution and close the carbon cycle," said Joe Jones, founder and CEO of Skyonic. "We are excited to mark this historic milestone with our innovative SkyMine® technology to capture pollutants and transform them into everyday products."
The SkyMine® process allows owners of industrial facilities or fossil-fuel-fired power plants to capture up to 90 percent of CO2 emissions from flue gas and transform them into solid products that can then be sold for a profit. The creation of these carbon-negative products will offset CO2 emissions by displacing products that are normally made through carbon-intensive practices.
The introduction of this innovative technology could transform the carbon capture industry. Previously, captured carbon has been sequestered and injected into the ground. Now, using SkyMine® technology, stationary emitters can convert greenhouse gasses into common industrial products.
"SkyMine® is more than a green technology – it's a smart business decision that makes money," Jones said. "Our business partners can use this technology to meet emissions requirements, replace costly scrubbing technologies and increase revenues. Skyonic is proud to partner with Capitol Aggregates to launch Capitol SkyMine, which will transform greenhouse gases into profits and change the way we all look at emissions."
###
About Skyonic Corporation
Skyonic Corporation builds new and retrofittable plants that produce carbon-negative chemical products at the lowest cost, while mineralizing industrial CO2 emissions and scrubbing SOx, NOx and mercury. The company's SkyMine® and SkyCycle™ technologies are designed to economically extract and mineralize carbon dioxide from industrial flue gas into products, such as baking soda, hydrochloric acid and limestone, at a commercial scale. The company's scrubber, SkyScraper™, also removes SOx, NOx, mercury and other heavy metals. These carbon chemistry processes have a two-fold effect, not only driving profit through the sale of products, but also helping to mitigate the effects of industrial pollution and close the carbon cycle. The company is opening the nation's first commercial-scale carbon capture and utilization facility at Capitol Aggregates, Inc. Skyonic was founded in 2005 by inventor and CEO, Joe Jones and is located in Austin, TX. For more about how Skyonic produces solid returns from clean air, visit http://www.skyonic.com.