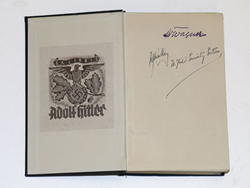 Solana Beach, CA (PRWEB) October 30, 2014
A copy of Mein Kampf, which was owned by Adolf Hitler, is being auctioned by noted antiquities dealer Craig Gottlieb. This 1932 edition of the book bears Hitler's own bookplate affixed to the inside front cover. It is believed to be the only author-owned copy of the book known to exist.
The auction began October 18 and runs online, through November 1, 2014 at http://www.historyhunter.com.
"Mein Kampf is one of the most printed titles in the world. There was a joke that everyone in Germany had a copy, but nobody read it because it was so badly written." Its impact on world history is however, undisputed.
Originals dating to the 1920s and up to the end of WWII are available on the market for any book collector who wants one.
"This is not your run-of-the-mill copy of Mein Kampf however," added Gottlieb. "Obviously Hitler must have had multiple editions of his own book, but this one was in his Munich apartment and Hitler's eyes almost certainly scanned it's pages at some point."
Mein Kampf – or My Struggle - is the autobiographical manifesto by Nazi leader Adolf Hitler, in which he outlined his political ideology and future plans for Germany. The book was written by Hitler following the failed Munich Putsch in November 1923 and was first published in July 1925.
The book was part of a group of Hitler's personal belongings that was liberated from Hitler's Munich apartment in 1945 by US Army 1st LT Joseph Ben Lieber. The book, along with other books from his library, was sold to Gottlieb last year along with Hitler's hat, shirt, medals, and other personal belongings.
"The chain of custody of the book is unbroken since 1945," said Gottlieb. "This particular artifact is one of the most profound artifacts in the group, which makes the provenance that supports the artifact so crucial to its value." The book is described and mentioned in several key documents that Gottlieb has, copies of which will be included with the book when it's sold.
"This artifact is historically significant and I would very much like to see it go to a museum," Gottlieb added. "However, market realities are such that when the hammer falls on the 1st of November, it will probably find a home with a book collector who appreciates it's historic significance."
The Hitler-owned copy of Mein Kampf is one of more than 400 military artifacts being auctioned at Gottlieb's online auction. Gottlieb, who has been criticized in the past for profiting from the sale of controversial items, has decided to donate a portion of the sale to charity.
Gottlieb estimates that the book could fetch over $100,000. A signed copy of Mein Kampf sold in March of this year for just under $65,000 at the Nate D. Sanders auction house in Los Angeles. A similar copy sold last year in England for over $70,000.
Craig Gottlieb has been a multi-season regular on History Channel's Pawn Stars, and is the author of several books on antiques and collectibles.
A former U.S. Marine, Gottlieb has traveled the world in search of famous military artifacts. He is renowned for uncovering such pieces as Adolf Hitler's desk set, a pair of Hitler-owned paintings of the dictator's parents, a uniform owned by Saddam Hussein, and a hat that belong to Italian leader Benito Mussolini.