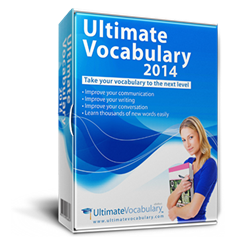 Children often struggle with reading due to their limited and limiting vocabulary.
New York City, NY (PRWEB) October 21, 2014
In a recent article from preventionaction.org, eReflect highlights the importance of vocabulary, emphasizing that vocabulary building is an essential step towards more competent English skills. The goal is to create English speakers who can handle online and interpersonal communication effortlessly.
The Ultimate Vocabulary software developer asserts that an extensive, deep vocabulary is the first stepping stone towards better reading skills. Reading requires a certain level of vocabulary knowledge, and if students have a limited lexicon then their reading is severely compromised, and their academic performance is at stake.
Vocabulary acquisition and mastery start as early as pre-school. Kindergarten students who don't receive ample vocabulary support and stimulus at home often find it hard to keep up with their class reading level at school. This is something which could dramatically compromise a student's academic performance in subsequent years, eReflect notes.
eReflect is the developer of the leading vocabulary building software, Ultimate Vocabulary. The company suggests that although most people focus on classroom learning, the importance of vocabulary shouldn't be ignored at home either. Parents and those close to children need to carefully select their words so as to expose children to relevant and varied vocabulary on a regular basis. This extra support creates improved vocabulary use at home, which will in turn facilitate reading and literacy at school.
By the time a child goes into the first grade they will be in serious trouble if their working vocabulary is not at least up to grade level. Children often struggle with reading due to their limited and limiting vocabulary. An eReflect spokesperson commented, "Just saying 'improve your vocabulary' to children doesn't suffice. Actionable steps need to be taken to help students improve and increase their working vocabulary so they can find reading enjoyable and constructive. Read a book out loud to your child, or watch a documentary and then discuss important words and concepts mentioned in it."
Something that is especially useful for low-income students who tend to have a restricted vocabulary is a vocabulary program like Ultimate Typing™. This type of program can be very helpful in getting these students to overcome their limited vocabulary and enrich it with age appropriate vocabulary so that their educational progress is unimpeded and as enjoyable as possible. A randomized controlled stimulation program carried out in Montreal showed that vocabulary building interventions for preschoolers, even when done for no more than 15-minutes per week, are enough to get students to improve their vocabulary.
***********
For more information on how you can benefit from Ultimate Vocabulary, please visit its official website, http://www.ultimatevocabulary.com.
About Ultimate Vocabulary™
Ultimate Vocabulary provides a proven and powerful platform, built to improve anyone's vocabulary.
The interactive self-improvement system provides more learning tools than any other program on the market, as well as more information on words.
The Ultimate Vocabulary software provides each and every user with a personal computer tutor. Providing a step-by-step guide to learning a powerful vocabulary, Ultimate Vocabulary is the learning tool everyone can benefit from.
Of course, the software is also backed by eReflect's iron-clad money back guarantee.