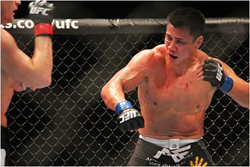 In many years of training Cung Le, I have never known him to have taken any kind of performance-enhancing drugs."
Atlanta, GA (PRWEB) October 23, 2014
SWF (Shaolin World Federation) and Shaolin Institute will hold, on November 7th at 6:30pm in Mobile, Alabama's Civic Center, a seminar entitled: Zen Nutrition & Healing: "An Enlightenment from the Irony of Cung Le 's HGH Test." This test refers to a highly publicized "post-fight blood test on Aug. 23, performed by the Hong Kong Functional Medical Testing Center and ordered by the UFC, revealed Le, 42, had an hGH level of 18.162 mIU/mL, which is above normal ranges" according to an ESPN report on Oct. 13, 2014 (http://espn.go.com/mma/story/_/id/11666574).
The seminar is sponsored by the Shaolin Chan Foundation on disconnecting people from the tendency to rely on synthetic medicines in a fast-paced world to explore such question as "Why do people fall for medical 'quick fixes?'" This seminar is mainly to rediscover Zen natural medicine, nutrition, and healing with reflection on UFC recent "accusation" reported by ESPN on Sept. 30, 2014 (http://espn.go.com/mma/story/_/id/11621081)
The natural medicine of nutrition seminar at KSF-US Open Challenge explores reasons why more people have adopted a culture of "quick fixes" when it comes to health with an additional discussion on the accusation made by officials of the UFC regarding Cung Le 's elevated HGH level, as reported and discussed on ESPN website mentioned above.
From headaches to weight-loss, it seems as though everything has a pill which claims to better everyone's situation effectively and, most importantly, promptly with little side-effects. A second thought is never given about the possible consequences.
"Admittedly, I felt the need to hold this seminar," says Shi Deru. "I was surprised and heartbroken to hear of the news that UFC accused a long-time student, Cung Le, of taking performance-enhancement drugs after his most recent fight in Macau, China on August 23rd. In many years of training Cung Le, I have never known him to have taken any kind of performance-enhancing drugs."
The Shaolin Institute advocates the practice of natural healing, nutrition, and self-empowering through high consciousness and total mind and body communication. "Cung Le has always integrated high forms of natural nutritional methods through smoothies and other dietary methods (among highly healthy conscious people) to his rigorous training regiments," recalls Deru. "These smoothies only contained organic fruits and vegetables. Cung Le would travel everywhere with his blender in order to continue this daily nutritional high performance practice."
Currently, Le is in process of appealing the accusation. A medical testing center not accredited with WADA (World Anti-Doping Agency), which is a standard requirement for UFC, carried out the test, according to ESPN report on Oct. 9 2014 (espn.go.com/mma/story).
Le and his manager, Gary Ibarra, are contesting the results which they claim that did not differentiate whether or not the level of HGH was either through synthetic abuse or naturally occurring in Le's system. HGH naturally occurs and varies in the human body according to that ESPN report (espn.go.com/mma/story).
Importantly, institutions such as the Shaolin Institute believe that resorting to use of drugs and other synthetic inhibitors for performance enhancement is self-destructive and suppresses the body's inner abilities to treat and heal.
"Thus, Chan (Zen) teaching in non-drug therapy and unveiling the inner-wisdom and abilities of the body and mind continues. Everyone can do a better job in enhancing our performance and abilities through high consciousness and natural nutrition. It seems like a challenge against all odds, however we as intelligent human beings can realize the importance of living full and prosperous lives naturally," says Shi DeRu.
The seminar on this November 7th will concentrate on the above and overcoming people's dependency on unnatural means of healing and/or enhancing modern people superficial needs. The evening will include an open discussion on natural medicine with organic nutrition along with practice of high-level meditation in order to tap into high conscious people natural healing abilities.
About Instructor and SWF
Shi DeRu (Shawn X. Liu), a 31 generation descendent and close disciple of late Great Master Shi SuXi from the Shaolin Temple, China and Founder of SWF (Shaolin World Federation).
SWF is a Kung Fu-Chan federation under SCF (Shaolin Chan Foundation) a non-profit organization under 501© to promote and carry out the Chan (Zen) teachings and way of living to preserve the art and culture of the Shaolin Chan legacy around the world.
SWF conducts seminars and lectures worldwide on Chan living and consciousness of being as well as cosmic consciousness, and support, publicize and sanction events throughout the US and around the world.
Contact Veronica Armendariz for more information: 770-286-9808
usaskf.org, Shaolinchan-Foundation.org or shaolin-world.net