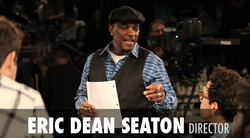 I am so proud and to be mentioned in the same breath as Samella Lewis, a consummate artist, is humbling," Seaton said. "I am so grateful to The Ohio State University and African American Alumni Association for their support."
Columbus, Ohio (PRWEB) November 13, 2014
It is said there are half a million living Ohio State University alumni around the world, united under "Carmen Ohio," eternally together for football Saturday and making their mark on the world using the knowledge and experience gained from their years at The Ohio State University. Television director Eric Dean Seaton is among those alumni making a difference. Since graduating with a film studies degree from OSU, Seaton has gone on to become one of the most sought after episodic directors in television. Recently, Seaton went from cheering on the Buckeyes to being being cheered himself as the 2014 recipient of the Samella Lewis Professional Achievement Award.
The Samella Lewis Award, named after the prolific African American artist who received her Masters and Doctorate in Fine Arts from OSU, is given to an African American alumnus who has achieved notable career accomplishments and made outstanding professional contributions, including professional impact, authorship of significant publications or in research and community service.
"I am so proud to have won this award, to be mentioned in the same breath as Samella Lewis, a consummate artist, is humbling, very humbling," Seaton said. "I am so grateful to the university and African American Alumni Society for their support and encouragement."
Seaton was unable to attend the event due to scheduling conflicts with his shooting schedule, but sent a video acceptance that can be viewed here: Eric Dean Seaton Samella Lewis Award Video.
Seaton has helmed 38 different shows, 195 television episodes, 18 music videos and two pilots for Nickelodeon - "Bad Fairy" and "Sketch" - as well as two pilots for Disney XD, "Mighty Med," which was picked up for a second season and "Kickin' It," which just completed its four-season run. He has also directed episodes of the NBC/Warner Bros. comedy "Undateable," TBS's "Ground Floor," BET's "Lets Stay Together" and "Reed Between the Lines." He is a two-time NAACP Image Award nominee for Best Direction in a Comedy Series and has just released his first book as part of an epic three-book graphic novel series "Legend of the Mantamaji" in October.
The Ohio State University African American Alumni Society's Homecoming Gala was held on Saturday, October 18, 2014 at the Airport Marriot.
---
For Media Interviews and Information on Eric Dean Seaton Contact:
Terreece M Clarke | 614.467-0361 | TClarke(at)LifeSliceMedia(dot)com