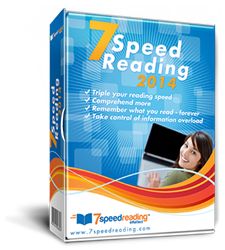 Now readers can enjoy their favorite books not just in dry environments, but anywhere they please.
New York City, NY (PRWEB) October 23, 2014
eReflect, developer of speed reading software 7 Speed Reading™, has provided a popular program that helps people improve their reading speed and read more in less time. The company salutes the designers of the Kobo Aura H2O, featured in The Guardian August 27 article, for giving speed readers and the public in general a waterproof ereader that they can use anywhere.
More and more people are turning to ereaders for their reading needs, even though these devices have some limitations. As eReflect points out, people who want to read at the beach, by the swimming pool, or in a relaxing bath have had to avoid ereaders, due to the risk of damage if the device falls into or is splashed by water. The company is pleased that Kobo Aura H2O has been introduced, as it will change the e-reading experience for what's estimated to be millions of readers. For anyone feeling limited by their ereader, Kobo Aura H2O seems to be the solution. Now readers can enjoy their favorite books not just in dry environments, but anywhere they please.
eReflect, who provides speed reading courses through its software, finds Kobo Aura H2O a long-overdue product that will satisify thousands of book readers, speed readers or not. The designer of one of the best speed reading software reports that the Kobo Aura H2O has a IP67 certification for its waterproof capacity, meaning it can be immersed in up to 1m of water for 30 minutes.
Kobo Aura H2O, just like the rest of the Aura ereader line, offers a wide range of features including the ability to select fonts and read a wide range of image and content formats including PDF, EPUB, GIF, JPEG,and HTML. It's also dustproof and its estimated battery life is up to 2 months. Kobo Aura H2O gives users access to over 4 million books, comics and children's books.
The waterproof reader allows readers a customized reading experience, since apart from font and size changing options, the user can also highlight, take notes, and access its built-in dictionary for a more seamless reading experience.
eReflect who helps people learn to speed read, conveys support to the designers of the Kobo Aura H2O and reminds readers that reading is a thoroughly enjoyable and constructive habit they should engage in more often to reap its full benefits - no matter where they are.
************
For more information about the benefits of using 7 Speed Reading, please visit the official website at http://www.7speedreading.com.
About 7 Speed Reading™
7 Speed Reading is the only modern speed reading software that uses the latest technology to produce superior results.
The software provides its users with a new way to master speed reading that guarantees three times the reading speed along with improved memory and comprehension.
The software is poised as the most comprehensive speed reading system anywhere. It contains seven learning strategies, fifteen software activities, video training, advanced tracking capabilities and many more exciting features.