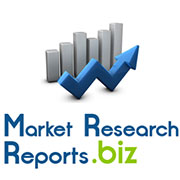 Latest Publication On China Environmental Monitoring Instrument Industry Report, 2013-2015
Albany, NY (PRWEB) October 21, 2014
Accordingly, environmental monitoring instrument as the basis of environmental protection has ushered in explosive development in recent years. Sales of environmental monitoring products in China surged from RMB1 billion in 2006 to RMB4.9 billion in 2013 at a CAGR of 25.5%, which indicates that China's environmental monitoring instrument industry enters a stage of rapid development.
View Full Report at http://www.marketresearchreports.biz/analysis/226335
According to The National 12th Five-Year Plan for Environmental Monitoring issued by China's Ministry of Environmental Protection in February 2012, the demand for environmental monitoring instruments during the 12th Five-year Plan period comes mainly from three areas: standardized construction of environmental monitoring stations of all levels, environmental quality monitoring and pollution source monitoring, whose demand will reach RMB1.7 billion, RMB6 billion and RMB18 billion respectively.
Download Detail Report With Complete TOC at http://www.marketresearchreports.biz/sample/sample/226335
From the perspective of competitive landscape, well-known foreign manufacturers such as HACH, SHIMADZU, Thermo Fisher Scientific, Waters, E+H, etc. give priority to sales of front-end and standardized analytical instrument; while domestic players including SDL, Sailhero, FPI, Universtar and the like are mainly occupied in back-end system integration and operation services.
With respect to enterprises, FPI boasts abundant production lines with business scope covering industrial process analysis, environmental monitoring, digital environmental protection, safety monitoring, laboratory instrument, etc., of which environmental monitoring products primarily cover pollution source monitoring, water quality monitoring and air quality monitoring. In 2013 FPI posted revenue of RMB941 million, of which RMB433 million or 46.2% was contributed by the environmental monitoring system.
Explore All Published Reports by Research in China at http://www.marketresearchreports.biz/publisher/67
Sailhero specializes in six product series consisting of five automatic continuous online monitoring systems (air, water quality, waste water COD, exhaust gas, acid rain) and environmental emergency monitoring vehicle. Among them, air monitoring is the company's strength, demonstrated by outstanding quantity of orders in 2013. Thanks to the significant revenue growth of air monitoring products, total revenue of Sailhero attained RMB335 million in 2013, 76.4% of which came from the aforementioned products.
Related Reports
Research Report On Environmental Protection Industry In China, 2014-2018
View Full Report at http://www.marketresearchreports.biz/analysis/207016
The proportion of investment in environmental protection remains low in GDP though the amount keeps increasing in recent years. The amount of investment is expected to grow significantly in 2014. Fog and haze remain the serious problems though the indices of sulfur dioxide and oxides of nitrogen decline in waste gas treatment in China. China reinforced the waste gas treatment to an unprecedented level in 2013. The industry chain of denitration will benefit as the denitration construction reaches a new high in 2014. Sewage treatment industry will enjoy new development opportunities based on industrial features and policy focuses as policies are launched in 2014.
Download Detail Report With Complete TOC at http://www.marketresearchreports.biz/sample/sample/207016
Chinese government issues a series of policies to support the development of environmental protection industry in recent years. The industry of energy conservation and environmental protection will further develop due to the supportive policies in 2014-2018. The waste gas treatment begins to take effect in China in recent years. The discharge amount of sulfur dioxide was 21.17 million tons in 2012, down by 4.52% YOY. Although it exhibits downward trend, the number is twice of the environment capacity and far higher than those in U.S. (10.36 million tons) and 27 European Union countries (5.68 million tons).
China Environmental Protection Equipment Industry Report, 2013 - 2015
View Full Report at http://www.marketresearchreports.biz/analysis/182286
According to China Environmental Protection Industry Association, the total size of the dust removal industry approximated RMB14.3 billion in 2012. Chinese dedusting equipment manufacturers mainly embrace Longking Environmental Protection, Feida Environmental Science & Technology and Kelin Environmental Protection Equipment. Three of them gained the combined revenue of RMB6.28 billion in 2012, accounting for 43.9% of the total. In particular, Longking Environmental Protection achieved the revenue of RMB4.24 billion, sweeping 29.7%, far more than the other two companies
Downlaod Detail Report With Complete TOC at http://www.marketresearchreports.biz/sample/sample/182286
In point of downstream customers, Longking Environmental Protection covers a wider scope, earned RMB1.6 billion in the thermal power industry, RMB150 million in the iron and steel industry and RMB500 million in the cement industry in 2011. Feida Environmental Science & Technology mainly embarks on the thermal power industry with the revenue of RMB1 billion, while it is rarely involved in iron, steel and cement industries. Kelin Environmental Protection Equipment focuses on the iron and steel industry, and obtained the revenue of RMB380 million in 2011.
About Us
Marketresearchreports.biz is the most comprehensive collection of market research reports. Marketresearchreports.biz services are especially designed to save time and money of our clients. We are a one stop solution for all your research needs, our main offerings are syndicated research reports, custom research, subscription access and consulting services. We serve all sizes and types of companies spanning across various industries.
Browse Blog at http://businessmonitorinternational.wordpress.com/