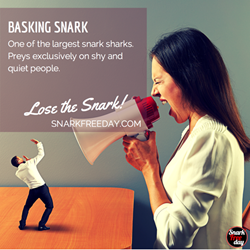 SEATTLE WA (PRWEB) October 20, 2014
Tuesday, October 21 marks the second annual "Snark Free Day" hosted by PRConsultants Group (PRCG), an organization of public relations professionals representing more than 50 markets across the nation.
This year, PRCG presents a Snark Free Award to CBS WKBT La Crosse news anchor Jennifer Livingston for her civility as well as how she handled calling out a snarky viewer. Livingston understands that hurtful words are a learned behavior that affects us all– at home, school, work and online.
Snark is more than just occasional sarcasm or snide remarks. It's a negative attitude that shows up in daily communication, face-to-face or in social media, and it often damages relationships and brings down morale. Snark Free Day aims, in a lighthearted way, to encourage everyone to lose the snark and be more mindful of the way we treat others.
Snark and other forms of incivility take a toll in the work environment. According to a 2013 study by the Thunderbird School of Global Management, 78 percent of those who were on the receiving end of incivility said their commitment to the organization declined and 66 percent said their work performance declined. Clearly, snark and incivility are serious issues.
Snark Free Day 2014 isn't trying to take itself too seriously, but does promote being more civil. The online and social media campaign has a host of digital tools including a guide to identifying a snark shark and keeping it at bay, civility e-cards, event invites and reminders, and a promotional short video. All can be found at http://www.snarkfreeday.com. Snark Free Day is the start of a movement, aimed at calling attention to one's attitude and behavior and making a conscious effort to shift the way we interact with one another.
Like the Snark Free Day Facebook page (http://www.facebook.com/snarkfreeday) and participate in the discussion on Facebook and Twitter using the hashtag #losethesnark. The public is encouraged to tweet the snarkiest thing someone has said to them (or they have said to someone) along with #losethesnark for a chance to be featured in a campaign video to be published online on October 21, 2014, Snark Free Day.
About PRConsultant Group
PRConsultants Group (PRCG) is a nationwide group of public relations consultants, each an expert in their respective geographic areas and media markets. Clients who access PRCG, get personalized and targeted service in each local market with the broad reach of a national agency. The group was founded in 1992 and has grown to include more than 50 affiliates across the U.S. with the ability to form global partnerships.