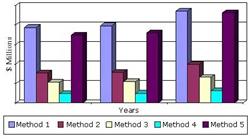 Global EMI/RFI Shielding Market to Reach $6.6 Billion in 2019
Wellesley, Mass. (PRWEB) October 20, 2014
BCC Research (http://www.bccresearch.com) reveals in its new report, EMI/RFI: Materials and Technologies, the global market for electromagnetic interference (EMI) and radio frequency interference (RFI) shielding products is expected to grow to $6.6 billion by 2019, with a five-year compound annual growth rate (CAGR) of 4.4%. Higher chip speeds, innovations in electronic displays, and ongoing demand for smaller, more powerful electronic devices are all key factors driving the development of novel EMI/RFI shielding materials and technologies.
EMI and RFI shielding material such as metal cabinets and plates, conductive coatings, laminates, and other filters are used to safeguard the performance of electronic equipment against EMI- and RFI-related failure. Mandatory compliance of electromagnetic compatibility (EMC) regulations and environmental pressures are major factors driving growth for this market.
The conductive coatings category, which includes electroless plating, vacuum metallization, and conductive paints and plastics, represents far and away the largest segment in the overall market. Indeed, this segment is expected to reach $2.3 billion in 2019 and to register a rather modest CAGR of 3.6%. While compliance issues and environmental concerns over metal disposal are currently slowing growth, the development of advanced polymers that can provide superior EMI/RFI protection is set to transform the global conductive plastics market.
Meanwhile, the laminates category, which includes tapes and foil products, is the fastest moving market segment and is anticipated to grow from just $228 million in 2013 to $302 million by 2019, registering a relatively healthy 4.9% CAGR. Factors driving growth in this segment include 100% shielding coverage, relatively low costs, and easy application.
"The increased number and quality of devices and components requiring EMI/RFI shielding will drive growth in this market over the near term," said BCC Research plastics analyst Melvin Schlechter. "However, the intense proliferation of portable electronic and wireless devices as well as ever-increasing frequencies being encountered in today's market will present several challenges, which may result in shifting of shielding options."
EMI/RFI: Materials and Technologies provides an overview of the global market for products to deal with EMI and RFI shielding issues. It includes analyses of global market trends, with data from 2013, estimates for 2014, and projections of CAGRs through 2019.
Editors and reporters who wish to speak with the analyst should contact Steven Cumming at steven.cumming(at)bccresearch(dot)com.
About BCC Research
BCC Research publishes market research reports that make organizations worldwide more profitable with intelligence that drives smart business decisions. These reports cover today's major industrial and technology sectors, including emerging markets. For more than 40 years, we have helped customers identify new market opportunities with accurate and reliable data and insight, including market sizing, forecasting, industry overviews, and identification of significant trends and key competitors. We partner with analysts who are experts in specific areas of industry and technology, providing unbiased measurements and assessments of global markets. Our clients include the top companies in industries around the world as well as universities, business schools, start-ups, consulting firms and investment companies. BCC Research is a unit of Eli Research LLC. Visit our website at http://www.bccresearch.com. Contact us: (+1) 781-489-7301 (U.S. Eastern Time), or email information(at)bccresearch(dot)com.
Data and analysis extracted from this press release must be accompanied by a statement identifying BCC Research LLC, 49-2 Walnut Park, Wellesley, MA 02481, Telephone: (+1) 781-489-7301; Email: editor(at)bccresearch(dot)com as the source and publisher. Thank you.