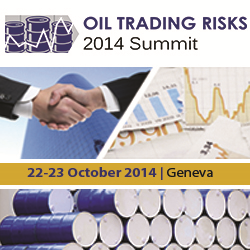 It's an IRN Summit!
London (PRWEB UK) 20 October 2014
With oil being such a volatile, political and essential commodity, managing the risks related to its trading has become a very important part of the strategy for oil trading companies to maintain their profits. Senior level speakers from oil trading companies and oil consuming companies, including aviation, will gather to discuss market, financial, regulatory, political and audit risks associated to oil trading.
Amongst the Speakers at this Summit are:

Federica Strumia-Michelini, Head of Market Risk, Neste Oil
Tim Dowd, Head of Global Energy Risk, Cargill
Kikka Harrison, Risk and Middle Office Manager, Addax Energy SA
David Cáceres Nuñez, Director-Financial Risk, Repsol
Khaja Qureshi, Head of Middle Office ST Group, Socar Trading
Murat Misirci, Financial Risk Manager, Turkish Airlines
Sergey Purisov, Head of Trading, Icon Capital
Dimitry Gusev, Chair of Petroleum Section, CJSC St. Petersburg International Mercantile Exchange
Bruce Urquhart, Director-Trading and Risk, Irving Oil
Jeroen Van Gerven, Head of Risk Integration, GDF SUEZ Trading
Fabio Giovannini, Head of Strategic Risk Management, ENEL
Cynthia Stimpel, Head of Financial Risk Management, South Africa Airlines
Neil Moyes, Risk, Hedging and Supply Management, Lufthansa
The Oil Trading Risks Summit is sponsored by the software solutions provider, ComFin; the energy software company, Ignite ETRM; the leading source of information for businesses and professionals, Thomson Reuters; the multi-market commodity software solution provider, Allegro; the Danish software company, CRISK; and the provider of commodity market data management solutions, GlobalView.
The Summit will begin on the first day with an overview of the latest trends in oil trading markets which will be led by the Director of Trading and Risk from Irving Oil. This session will look into China and other emerging countries as well as the state of risk management in oil trading. This will be followed by a workshop on cross-company risk management alignment which will be conducted by the Risk and Middle Office Manager from Addax Energy. This session is vital to pinpoint areas where risks need to be reduced in order to improve efficiency in oil trading organisations.
For more information about the Summit, Speakers and the Agenda, visit the website: http://www.oiltradingrisks.com