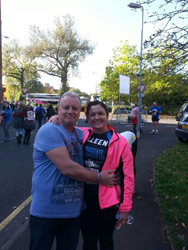 Coventry (PRWEB UK) 21 October 2014
Colleen Humphries, who works as a Rant & Rave Assistant for Coventry-based company, Rant & Rave, took on the incredible challenge of running 13.1 miles in this weekend's Birmingham half marathon.
Colleen was inspired to sign up to the challenge after her partner Alan was diagnosed with an aggressive, advanced form of the disease.
Colleen says: "Until Alan's diagnosis I barely knew anything about prostate cancer. But it turns out it is the most common form of cancer for men in the UK, with over 40,000 people diagnosed every year. There is a high survival rate if identified in the early stages, but unfortunately for my Alan his diagnosis came too late. He is now among the minority of sufferers where it can't be cured, but can be kept under control. Completing the run was my chance to show my support for Alan and hopefully to get more people to know about the perils of this terrible disease."
Coventry-based Rant & Rave is one of the UK's leading customer engagement specialists, listing half of the FTSE as their clients.
Donations to Prostate Cancer UK can still be made via Colleen's JustGiving page https://www.justgiving.com/Colleen-Humphries/.
For more information on the disease visit http://www.prostatecanceruk.org.
*Ends*
About Rant & Rave

Coventry-based, Rant & Rave (formerly known as Rapide) was launched in 2000 by Nigel Shanahan and is one of the UK's leading customer engagement specialists, counting half of the FTSE as clients.
Its multi-channel solutions let brands proactively communicate with and listen to the Voice of the Customer to manage and measure their experience. By providing solutions which are customer, not brand, centric Rant & Rave helps its clients to transform Ranters into Ravers and turn happy customers into lifelong advocates.
To find out more about Rant & Rave visit http://www.rantandrave.com