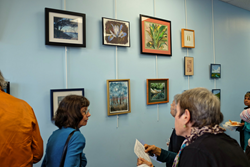 Bronx, NY (PRWEB) October 20, 2014
Sunday, Oct. 5 marked the opening reception for a rotating show of works by area artists, curated by the Riverdale Art Association at Riverdale Urgent Care, 5665 Riverdale Avenue, in the Skyview Shopping Center. In total, there are 18 original pieces on display in the waiting room, all contributed by some of the area's finest artistic talent.
The gala event had all the ambiance of a gallery opening and was met with a full house of excited guests. The turnout included people such as Congressman Eliot Engel and North Riverdale Merchants Association president Gary Wartels. Distinguished Bronx violinist and Musical Director of "Intimate Voices" local chamber concert series Sheila Reinhold was also on hand to perform. Addeo's Pizza, Riverdale Bagels, Riverdale Kosher Market and Skyview Wine and Liquor contributed refreshments to the event.
"We are delighted to partner with Riverdale Art Association to create public space at our medical facility available for these wonderful works," said office manager Stan Cohen. "We came up with this idea in an effort to add a human touch to our office and create a special atmosphere."
"The artwork was automatically a breath of fresh air," he continued. "It was like oxygen was infused into our space. It changed the entire atmosphere and feel of the office. Our patients have enjoyed it as well. Art has a certain healing property. It takes peoples' minds off of what ails them."
The paintings and photographs went on public display beginning in the last week of September. New works are set to be shown every three months on a rotational basis. Artists wishing to display their work should reach out to the Riverdale Art Association – http://www.RiverdaleArtAssociation.org or contact Stan Cohen at Riverdale Urgent Care 347-913-4242.

About the company:
Riverdale Urgent Care is conveniently located at 5665 Riverdale Ave. in the Riverdale section of the Bronx, NY. At Riverdale Urgent Care, each staff member brings in-depth understanding, extensive experience and skills. In addition to treating life's everyday minor injuries, they offer drug testing, blood testing, vaccines, on site x-ray, EKG, stitches and rapid in house testing for flu, strep throat and mono. They can also perform physicals for DOT commercial drivers, camp, school and employment.
The Riverdale Urgent Care clinic is open 7 days a week - evenings, weekends and holidays, when most doctors' offices are closed. Appointments are never required - just walk in. The clinic is open 8 a.m. – 8 p.m. Monday – Friday and 8 a.m. – 3 p.m. on weekends. Call (347) 913-4242 today for more information.