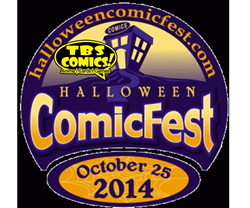 Fort Walton Beach, FL (PRWEB) October 20, 2014
On Oct. 25, TBS Comics will be participating in Halloween ComicFest. Comic books fans will get a Halloween treat on this day when they walk into either of the TBS Comics locations in Fort Walton Beach, FL and Pensacola, FL.
Much like Free Comic Book Day, doors at the shop open at 10 a.m., and free comic books are available while supplies last. TBS Comics has six different official comics for customers to choose from, including Scooby-Doo! Team Up #1, Marvel Comics #1, Afterlife with Archie #1, My Little Pony #1, Marvel Super Heroes: Secret Wars #1 and Grimm Fairy Tales Halloween Special #1.
Halloween ComicFest is celebrated across the country at participating comic book shops. At Halloween time, there's no better place for all the best horror and Halloween-related products and merchandise than the local comic book shop. Customers can find everything from comics and graphic novels to toys and games and more. Learn more about the Halloween ComicFest event by visiting http://www.halloweencomicfest.com/Home/1/1/78/1138.
TBS Comics is located at 6895A North 9th Ave. in Pensacola, FL and 550 Mary Esther Blvd. in Fort Walton Beach, FL. Stop by either of the two locations on Oct. 25 for a free comic book, and explore the store for more comics, cards and games! Visit their website at http://www.tbscomics.com for more information.
TBS Comics has been the premier comic book store serving Northwest Florida since 1985. With two locations in Fort Walton Beach, FL and Pensacola, FL, TBS Comics has the largest selection of all things comics, anime, sports and gaming. At both locations, customers are sure to find all of their favorites as well as something new and exciting to enjoy. TBS Comics is the comic book store of choice when it comes to satisfying any and all comic interests and needs. For more information, visit their website at http://www.tbscomics.com.