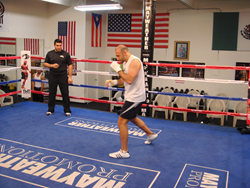 I look forward to many big things with Mike Tyson and Iron Mike Productions in the near future.
Lockport, NY (PRWEB) October 20, 2014
The youngest heavyweight champion of all time and former undisputed champion of the world, "Iron" Mike Tyson is scheduled to visit Team Abdallah in Lockport, NY on Saturday, Nov. 15.
Amer Abdallah, the current #2 ranked kickboxer in the world, first met Tyson in Las Vegas back in 2012 as he was preparing for a title defense at the Mayweather Boxing Club.
"When I first met Mike Tyson, I was like a kid who finally met Santa," said Abdallah. "Here was the fighting role model that millions looked up to and everyone wanted to be like right in front of me."
It was immediately after that Abdallah wanted his fans back in Western New York to experience the same thrill and began working on getting Tyson there.
Abdallah, who is also CEO of Lace Up Promotions, a New York-based promotions company that hosts kickboxing and Muay Thai events in the Northeastern region of the country, is hosting Tyson during his visit to Buffalo and Lockport, NY.
"It is such an honor to have Mike Tyson as my guest and I look forward to many big things with Mike Tyson and Iron Mike Productions in the near future," Abdallah stated.
During the day, Lace Up Promotions is arranging the "Mike Tyson Experience" in downtown Buffalo at Statler City, which will give fans the opportunity to privately meet the living legend, get an autographed glove and have a professional photo taken as well.
In the evening, Lace Up Promotions is presenting "Legends Rise," a championship kickboxing event at the Kenan Arena featuring Lockport's own "Son of a Legend" Joe Taylor as he fights for a WKA Heavyweight Kickboxing Title.
"Fans will have a once in a lifetime opportunity to get up close with a living legend," Lace Up Promotions Chief Executive Officer Brian Marciniak stated. "It is every boxing fan's dream come true."
Tickets for the event are available at http://www.meetmiketyson.com and are expected to sell out.
Abdallah has yet to announce the date and location of his world title fight but indications are that Tyson will be in attendance wherever and whenever it is. In Abdallah's last outing, he defeated European Champion James Wallis by unanimous decision at the Kenan Arena in Lockport on June 7. He was moved up from the fifth-ranked cruiserweight to number two along with being crowned as the World Kickboxing Association's Intercontinental Champion.
About Lace Up Promotions LLC:
Lace Up Promotions strives to give local athletes the opportunity to build their careers, gain fans, build a reputation and work their way to lifelong ambitions of championships. Amer Abdallah had a passion for promoting and teaching kickboxing, boxing, and Muay Thai from an early age, and after successfully running a gym for teaching and training, Abdallah took this passion to the next level with Lace Up Promotions.
Having promoted numerous champions, such as Sam Stout, Jim Andrello, Mark Hominick, Chris Hordecki, Alexis Davis, Kim Andrello, Ed Burris, Kevin VanNostrand and even Amer Abdallah himself, Lace Up Promotions has become a well-known name in the combative sports world. To learn more, visit their website at http://laceuppromotions.com/.