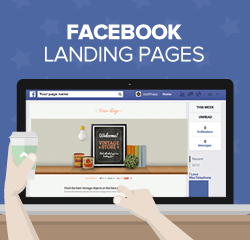 You'll be able to set up your Facebook Tab completely by yourself in just 4 simple steps.
Austin, Texas (PRWEB) October 22, 2014
As most know, landing pages are essential for any online marketing form. But these pages have different applications outside of the website. In particular, Facebook Landing Pages can give your social media campaigns a boost.
A Facebook landing page is a branded tab with campaign information, but it is directly on the social media platform. And the reason why these pages are so important is because social media is very different from other forms of online marketing.
When people use Facebook they don't want to interrupt their experience to visit a separate website. Sending them directly to a page can cause higher bounce rates because they weren't expecting it.
Let's take a look at some of the benefits of using Facebook landing pages:

Transform a Facebook page into a monetizable online hub
Landing pages within Facebook can increase profits
Collect sign-ups from Facebook
More engagement with friends and "likes"
Improve the lead generation strategy
Many brands use Facebook landing pages to drive further engagement and interactions. Providing a consistent experience - including imagery, colors, forms and text - is one of the best ways to ensure that pages generate a good conversion rate.
Creating Custom Facebook Landing Pages
Lander's new integration allows to create Facebook tabs in minutes and without the need of any HTML knowledge, or the intervention of third party apps. Thanks to Lander's latest feature, anyone will be able to set up their Facebook tab completely by themselves and in just four simple steps.
Let's take a look to these four steps:
1. Integrate your account with Facebook.
2. Select your fan page.
3. Write your Facebook tab title and upload your thumb image.
4. Publish it!
That's pretty much it. In just minutes a custom landing page tab can be created on the Facebook fan page. But to make it even clearer, watch this two minute video that shows step-by-step how to create the first Facebook tab.
About Lander
Developed especially for today's internet marketer, Lander is the easiest-to-use landing page creation platform and performance marketing web app, enabling even those without IT or design knowledge to produce and manage super-effective PPC, social media and email marketing campaigns.
Increase your conversions easily with Lander's three-step process: design, publish and optimize your landing pages in minutes.