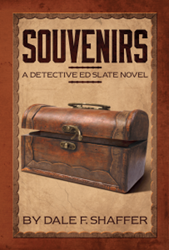 Lt. Ed Slate and Sgt. Joe Barona, from the newly formed Major Crimes Section, investigate the murder and mayhem described in this new thriller.
HENDERSONVILLE, N.C. (PRWEB) October 21, 2014
Twenty-eight-year-old Kristine DeLong, recently settled into residence at a Gold Coast address, is the latest victim of Chicago's 600 annual homicide cases. Lt. Ed Slate and Sgt. Joe Barona, from the newly formed Major Crimes Section, investigate the murder and mayhem described in this new thriller. Noting that Ms. DeLong is not the only beautiful young woman from the city's North Side to be found raped and murdered in her bed, Slate and Barona begin to suspect they should be looking for a serial killer.
In "Souvenirs," the third Detective Ed Slate novel starring the brash police lieutenant, Slate and Barona identify similarities in a series of 12 unsolved homicides that span a five-year period. The victims are all professional young women who lived on or near the Gold Coast along Lake Michigan. And all were found strangled, and wearing a high-fashion shoe on their right foot with no matching left shoe to be found. A former Marine who served in the jungles of Vietnam, Slate knows how to pursue the enemy in search of justice and he sets a trap. Will he succeed or will the killer continue to claim victims?
Kirkus Reviews has glowing praise for the author: "Shaffer once again gets all the details right with razor-sharp precision in this third police procedural. . . . Another thoughtfully crafted installment in the durable Ed Slate mystery series."
Dale F. Shaffer brings a wealth of police experience to his writing. He served as an Ohio state trooper and chief of police in Ohio and Illinois. Shaffer earned a degree in police administration, graduated from the FBI National Academy and has served as an expert witness. "Souvenirs" follows "His Honor and Spot of Blood" in the Detective Ed Slate series, soon to be followed by "Street Justice."
----------
For additional information, please visit http://www.daleshafferbooks.com
Souvenirs: A Detective Ed Slate Novel
Dale F. Shaffer
Dog Ear Publishing
ISBN: 978-1-4575-3067-8 288 pages $16.95 US paperback
ISBN: 978-1-4575-3260-3 288 pages $32.00 US hardcover
ISBN: 978-1-4575-3291-7 288 pages $ 5.99 US ebook
Available at Ingram, Amazon.com, Barnes & Noble and fine bookstores everywhere.
About Dog Ear Publishing, LLC
Dog Ear Publishing offers completely customized self-publishing services for independent authors. We provide cost-effective, fast, and highly profitable services to publish and distribute independently published books. Our book publishing and distribution services reach worldwide. Dog Ear authors retain all rights and complete creative control throughout the entire self-publishing process. Self-publishing services are available globally at dogearpublishing.net and from our offices in Indianapolis.
Dog Ear Publishing – self-publishing that actually makes sense.