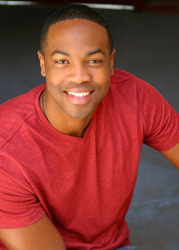 Have respect, hard work, faith and dedication, all these things.
(PRWEB) October 20, 2014
Camp X-Ray is a film inspired by the detention facility at Guantanamo Bay. According to IMDb, the film written and directed by Peter Sattler, follows the story of a soldier assigned to the camp, befriending a "man who has been imprisoned there for eight years." AMTC graduate and Summer SHINE 2014 Guest Star, Ser'Darius Blain, will co-star alongside Kristen Stewart and John Carroll Lynch.
Ser'Darius, raised in Melbourne, Fla., attended the Winter SHINE 2007 conference. Since then, he has been in television shows like Super Fun Night (2014) and The Vampire Diaries (2012). In addition, he has snagged lead roles in Star Trek Into Darkness (2013) and When The Game Stands Tall (2014). Currently, Ser'Darius resides in Los Angeles, and is working on the upcoming film, Bolden!
After attending SHINE, Ser'Darius received awards, callbacks and a scholarship to the New York Conservatory for Dramatic Arts. He gives other performers advice on making it into the industry, "Persevere. Don't let anyone tell you that you can't do something. Because nothing would happen."
Ser'Darius admits that he has had many struggles with breaking into acting, but says that God helps him to overcome. "I do everything I do to glorify God. God gave me talent, He gave me gifts in order to magnify Him. So at the end of the day, I know that I'm not doing this for me or for pleasure." He also gives advice to performers who want to keep God first. "Have respect, hard work, faith and dedication, all these things. No matter what environment you're in, they should keep you strong. Knowing this, I surround myself with people who have similar beliefs. People who don't let me forget who I am or where I come from," he said.
Watch Ser'Darius play the starring role of Jackson in Camp X-Ray, which premiers nationwide on Oct. 17, 2014.
For more information about AMTC, where Ser'Darius got his start, or to audition for the international SHINE Conference, visit http://www.amtcworld.com. If you would like to receive regular updates on Ser'Darius, follow him on Twitter.