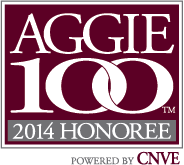 Wired Networks shares this honor with our customers because it's our client's success that allows us to continue to exist, grow and prosper along with them".
College Station, TX (PRWEB) October 21, 2014
Texas A&M University recognized Wired Networks of Kerrville, TX as a member of the 2014 Aggie 100 honoring the fastest-growing companies in the world, owned or operated by Texas A&M University former students. Wired Networks was ranked 54 out of 100 with a compound annual growth rate of 44.78% from 2011 through 2013. The Aggie 100, a program created by the Center for New Ventures and Entrepreneurship in Texas A&M University's Mays Business School, honors graduates from across disciplines for their entrepreneurial endeavors and success as business leaders.
WIRED NETWORKS since 2008 has been enabling medium size businesses to take advantage of the ever-changing technology solutions available across over 50+ telecom, hardware, IaaS, SaaS, server colocation/hosting and cloud service providers. Jeremy Kerth is a 1996 graduate of Texas A&M University and leads his team in providing and supporting best of breed technology solutions to their clients' on-going technology needs.
"Wired Networks continues to provide our clients with highly available WANs so they can leverage cloud applications! Cloud Assurance, our award winning WAN solution, has allowed our clients to reap a greater return on their WAN infrastructure, and once again, we share this honor with our customers because it's our client's success that allows us to continue to exist, grow and prosper along with them".
The 100 Aggie-owned or Aggie-led businesses with the highest annual revenue growth were recognized at a formal luncheon at the Memorial Student Center on the Texas A&M University campus, Friday, October 17, 2014. More than 700 honorees, families, employees, faculty, administrators, and well-wishers were in attendance to celebrate their success. Dr. Ricky W. Griffin, Interim Dean for Mays Business School, introduced the event's keynote presenter, the Aggie 100 number one honoree from the inaugural 2005 event George Voneiff, CEO of Unconventional Resources, LLC. He addressed the honorees on topics of dedication, leadership, and commitment.
"Our Aggie 100 honorees demonstrate that the character and traditions developed at our great university continue to play a significant role in their success across industries and generations," said Dr. Richard Lester, Executive Director of the Mays Business School's Center for New Ventures and Entrepreneurship. "Aggie leaders have proven time and time again that no matter the situation, solid business ideas, strong character, tenacity, and hard work pay off."
The Aggie 100 list in its entirety may be viewed at http://www.aggie100.com.
About WIRED NETWORKS
Since 2008, Wired Networks has provided turn-key technology solutions for mid-sized healthcare, oil and gas, manufacturing/distribution, construction, retail and finance companies. Their customers have preferred them to traditional VARs, interconnects, telecom service providers and managed service providers because of their unique ability to bring a high level of competence to all of the above. They do this by providing technical resources, project management and on-going life cycle management so their customers can continue to do what they do best while knowing they have a partner in Wired Networks looking out for their best interests. Learn more at http://www.wirednetworks.com.
For further information please contact:
Jeremy Kerth
210-858-0488
jeremyk(at)wirednetworks(dot)com