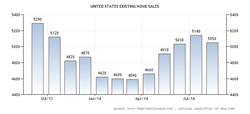 lenders will be looking for seasonal strength or weakness of existing sales for September.
Chicago, IL (PRWEB) October 20, 2014
After housing starts and building permits pleasantly surprised lenders like Peoples Home Equity on Friday, all eyes will be on existing home sale and new home sale figures this week.
On Tuesday, October 21st, existing home sales for the month of September will be released. Existing sales had climbed for 4 consecutive months from 4,590 thousand in March to 5,140 thousand in July but then declined -1.75% in August to 5,050 thousand. Peoples Home Equity viewed Augusts decline as a healthy market pause. Now lenders will be looking for seasonal strength or weakness of existing sales for September. The market consensus according to TradingEconomics.com is that existing sales will be 5,100 thousand in September. This would not surpass the 2014 high of July, but it would certainly bode confidence for the housing market to show that September was able to rebound and surpass the sales of August before the inevitable decline into fall season.
On Friday, October 24th, the market will receive word of the all-important new home sales numbers for September. In August, new home sales surged to 504 thousand hitting the highest level since 2008. Lenders are not expecting that new home sales will increase again in September, instead they are hoping for only a modest pullback from August. While new home sales are approximately 10% of total housing sales lenders like Peoples Home Equity pay special attention to new home sale figures because; they are directly related to the number of possible existing available to sell to first-time homebuyers. Readers should note that when existing homeowners purchase and move into a more expensive new home, their existing home is listed for sale at a relatively lesser price which is attractive for first-time home buyers. While this event does not play out all the time, it is still thought of in the minds of analysts analyzing new home sale data.
Contact a Peoples Home Equity loan officer today at: 262-563-4026