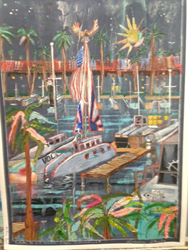 (PRWEB) October 21, 2014
Thomas and Despina Tunberg juried Lorraine Strieby into this show and other artists from all parts of the world which was a dream of theirs and it took 9 years of planning and producing an art show that packed a punch as soon as you walked in the door.
The show took place in October 16 - 19, 2014, and presented an avenue for both known and emerging artists.
Lorraine was pleased to be in the International Artists Booth managed by the Tunbergs. Her seascapes were featured and her recent inspiration entitled "Salute to the US Marine Corps at Camp Pendleton," Oceanside, CA, had a full page of that one piece in the catalog. This represents her passion for shimmering colors and glittering metals. Somehow that painting shows her love of the sea, the US armed forces, and the way she sees the world. She delights in collaging paper to make mystical skies and transparent, reflecting water.
On October 23rd her painting "Clarinet Blues" will be in the Gustave Salon in the Eiffel Tower, Paris, France. She is looking forward to going to Catania, Sicily, on November 15 where she will talk about her love of jazz and her attempt at putting jazz on a two-dimensional painting.
She also is looking forward to January 1, 2016, when a proposed float she designed for the West Virginia University Hospital and the State of West Virginia will roll down Colorado Blvd. The State logo, "Wild and Wonderful" will show WV's diversity and whimsy and celebrate the wonderful work that the Hospital does in saving children not only in West Virginia, but Ohio, Pennsylvania, Maryland, Kentucky, and Virginia.
Later this month her children's picture book, Cat Sophia and Molly McMole, will be available on your Kindle or iPad for three-year olds and up. Each page has a colorful painting and the uplifting story of how a feisty heroine and Mayor, Molly McMole saves her onion-domed town beneath the ground from a Cat that is on a mission to get rid of these pesky, hole digging creatures. It is a good read for the little ones and the story teller moms, dads, and grandparents, too!