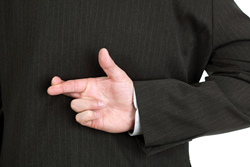 As a general rule, anything that looks too good to be true is probably not true.
(PRWEB UK) 28 October 2014
When the headline "No charge for new online licence checking service," appeared during July 2014, anyone running a fleet might have smiled. Onerous duty of care requirements are imposed upon fleet managers, regardless of who owns the vehicles in question, not to mention the thorny question of insurance validity. In simple terms, checking drivers' licences is both crucial and problematic.
The challenge is that the fleet manager needs eyes in the back of the head. It is not enough to carry out a visual check when first appointing a driver. If any of the licence details change, the fleet manager is supposed to know about it immediately. The introduction of online checking represented a real boon: fast, accurate checking on demand. The only drawback might be the cost. So, the DVLA's July announcement seemed too good to be true.
As a general rule, anything that looks too good to be true is probably not true.
For a start, the key phrase in the announcement was that the service, "will initially be freed." It then emphasised that this: "will be kept under continuous review and is subject to change."
More importantly, there are data protection implications. Fleet managers will need a mandate system for obtaining every driver's written approval to access their licence details. Permissions will also need to be carefully worded to allow ongoing re-checking. This will invariably be a manual, labour-intensive task.
Fleet managers can be forgiven for wondering whether online licence checking is as simple as it seemed, after all. It is – or, it can be. The answer is MileageCount, where automated licence checking is just one of many powerful features. Anyone in doubt should consider this: with MileageCount, the fleet manager can be immediately notified if a driver is awarded penalty points or is disqualified. How much might the organisation save with just one such notification?
The alternative is to carry on with the traditional approach: crossed fingers. Unfortunately, that might not always work. It's your call.