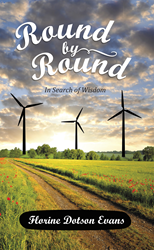 A simple comment may allow us to clearly see we have the power needed in every situation.
LOS ANGELES (PRWEB) October 21, 2014
After eight months of limited mobility due to a torn meniscus, Florine Evans spent time each day watching "The Oprah Winfrey Show" and feeling inspired. She turned these inspirations into short messages of encouragement for a happier, faith filled life presented in her new book "Round by Round."
"When you hear a truth spoken briefly it becomes more relevant," said Evans.
With Evans' brief words of wisdom, readers will be able to apply these mantras and lessons to their every day lives and feel encouraged to overcome the challenges and problems they encounter each day.
"A simple comment may allow us to clearly see we have the power needed in every situation," said Evans.
Evans has encountered her share of challenges throughout her life. In 1956, she made history as one of six black students to integrate Central High School in Oklahoma. With a student body of 4,000 students, she faced many barriers with determination and perseverance.
Evans unique cirumstances and simple truths have greatly impacted her life. With her book, she hopes others will interpret and percieve her message in an empowering way.
"Round by Round"
By Florine Dotson Evans
ISBN: 978-1-4908-3802-1
Available in softcover, hardcover, e-book
Available on Amazon, Barnes & Noble and Westbow
About the author
Florine Evans was a native to Oklahoma until relocating to Salem, Oregon and then Beaverton, Oregon. In 1986 she moved to Simi Valley, California, where she currently resides. After completing her business school training, she was employed by the state of Oklahoma in the medical evaluation unit. She has been married to her husband Joseph Benjamin Evans for 46 years. Together they have two daughters and four grandchildren. In 2003 she was ordained and currently acts as the associate minister at Simi Valley Second Missionary Baptist Church.