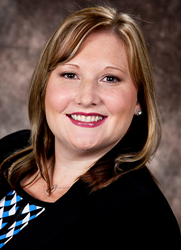 Orlando, FL (PRWEB) October 21, 2014
Tara Corriveau Merritt, business consultant for the North American Title Co. Orlando office, has been elected as affiliate director for the 10,370-member Orlando Regional Realtor Association (ORRA). Announced at the recent ORRA Realtor Convention and Trade Expo, Merritt was one of eight leaders elected to serve in the coming term.
"I am proud to work for a company that encourages us to get involved in our real estate communities as active participants and contributors," said Merritt. "My passion to serve has grown over my years as an ORRA member, and this seemed the next natural step for me. I am honored to serve on ORRA's board of directors as affiliate director."
The affiliate director for a Realtor association represents those who work for mortgage, title, inspection and other real estate-affiliated businesses. There are 332 affiliate members of ORRA.
A 16-year title industry veteran, Merritt is a Florida licensed title agent and previously worked as an escrow manager and as a branch manager for two Orlando-area title companies. Her commitment to the local real estate community is exemplified by her position as chairman of the 2014 Young Professionals Network Orlando advisory board of ORRA as well as her work as an ORRA affiliate member. Merritt was honored by ORRA with the 2013 Affiliate Member of the Year award for her dedication in support of association programs.
Merritt is also a member of the board of directors of the Women's Council of Realtors Orlando Regional Chapter and the Mortgage Bankers Association of Central Florida. An Orlando native, she graduated from the University of Central Florida and is active in the UCF Alumni Association.
Merritt works in the North American Title branch at 851 Trafalgar Court, Suite 132E, Maitland, FL 32751, telephone number (407) 869-5200.
About North American Title
With well over 1,000 associates and a vast network of branches from coast to coast, North American Title (NAT) is among the largest real estate settlement service providers in the United States. Consisting of both agent and underwriter operations, NAT reported annual net revenues in fiscal 2013 of $185 million. The company also has the resources and stability of a wholly owned subsidiary of an S&P 500 company with over $11.0 billion in assets (fiscal quarter ending Nov. 30, 2013). North American Title's agency network operates nationally under the name North American Title Co. (NATC), and is located in 18 of the fastest-growing states: Arizona, California, Colorado, Delaware, Florida, Illinois, Indiana, Maryland, Minnesota, Nevada, New Jersey, New York, Ohio, Pennsylvania, Texas, Utah, Virginia and Washington, D.C. Through our relationship with our expanding affiliate network, NATC provides real estate settlement services in all 50 states. NAT is headquartered in Miami, Fla. To learn more, visit http://www.nat.com