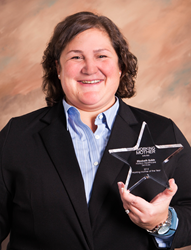 "Horizon is proud to recognize Liz as a great role model in the office, as a strong leader, and outside the office, as a wonderful mom," said Alison Banks-Moore, Chief Diversity Officer
Newark, New Jersey (PRWEB) October 20, 2014
Elizabeth Rubin, Director of Healthcare Informatics Operations for Horizon Blue Cross Blue Shield of New Jersey (BCBSNJ), has been named as a 2014 "Working Mother of the Year" by Working Mother magazine. A mother of two and an eight-year employee of the company, Ms. Rubin received her award during a special gala held by the magazine at the Marriott Marquis in Manhattan earlier this month.
"Horizon is proud to recognize Liz as a great role model in the office, as a strong leader, and outside the office, as a wonderful mom," said Alison Banks-Moore, Chief Diversity Officer for Horizon BCBSNJ. "Horizon understands the value of offering our employees a healthy work-life balance that supports the diverse needs of our workforce."
As Healthcare Informatics Operations Director, Ms. Rubin is charged with effectively capturing and utilizing complex healthcare data to achieve better clinical outcomes improve member engagement and manage costs. In a rapidly-evolving health care industry, Horizon BCBSNJ and its 3.7 million members benefit from Ms. Rubin's strong leadership skills and ability to consistently meet deadlines with quality results. In her spare time, Ms. Rubin volunteers as a mentor through BCBSNJ's INROADS program, which recruits ethnically diverse college students for corporate and community leadership, and the National Minority Development program.
Outside of the office, Ms. Rubin, a resident of River Vale, NJ, spends much of her time with her two young daughters. She is actively involved at her synagogue, Temple Emanu-el in Closter, NJ, and participates in the parents' committee for her daughter's swim team, YJCC Bergen Sharks.
Horizon Blue Cross Blue Shield of New Jersey was also named one of the 2014 Working Mother 100 Best Companies for its commitment to progressive workplace programs, including child care, flexibility, advancement and paid family leave. This is the fifth consecutive year that Horizon BCBSNJ has been recognized as a Working Mother 100 Best Company.
To view the complete profile of all award honorees, go to the Working Mother website at http://www.workingmother.com. Working Mothers of the Year are nominated by their spouses, employers, children and friends, and selected by the Working Mother editorial team.
About Horizon BCBSNJ's Diversity programs
Horizon BCBSNJ has instituted many programs aimed at promoting diversity within the company including: paid minority internships and manager development programs, as well as a Diversity Council and minority leadership programs. To learn more about Horizon BCBSNJ and its diversity efforts, visit: http://www.HorizonBlue.com/diversity
About Horizon Blue Cross Blue Shield of New Jersey
Horizon Blue Cross Blue Shield of New Jersey, the state's oldest and largest health insurer is a tax-paying, not-for-profit health services corporation, providing a wide array of medical, dental, and prescription insurance products and services. Horizon BCBSNJ is leading the transformation of health care in New Jersey by working with doctors and hospitals to deliver innovative, patient-centered programs that reward the quality, not quantity, of care patients receive. Learn more at http://www.HorizonBlue.com. Horizon BCBSNJ is an independent licensee of the Blue Cross and Blue Shield Association serving more than 3.7 million members.
About Working Mother Media
Working Mother Media, a division of Bonnier Corporation (bonnier.com), is the publisher of Working Mother magazine and its companion website, workingmother.com, and the Working Mother Research Institute. The National Association for Female Executives (nafe.com), Diversity Best Practices (diversitybestpractices.com) are also units within WMM. Working Mother Media's mission is to serve as a champion of culture change. Working Mother magazine reaches more than 2 million readers and is the only national magazine for career-committed mothers; Workingmother.com gives working mothers @home and @work advice, solutions, and ideas. This year marks the 29th anniversary of the magazine's signature research initiative, Working Mother 100 Best Companies, and the 12th year of the Best Companies for Multicultural Women. Follow us on Facebook or on Twitter.