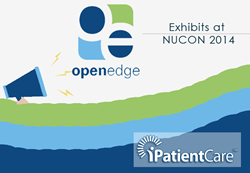 OpenEdge president, Eddie Myers, commented, "Our partnership with iPatientCare allows streamlined and innovative payment options for physicians' offices and simple, secure payments for patients. We're pleased to once again support iPatientCare at NUCON."
Woodbridge, NJ, (PRWEB) October 21, 2014
iPatientCare, Inc., a pioneer in mHealth and cloud-based ambulatory EHR and integrated Practice Management solutions announced OpenEdge's participation at iPatientCare National User Conference (NUCON) 2014 and exhibiting its fully-integrated patient payment solution to maximize practice Profitability.
The iPatientCare and OpenEdge integration enables secure, integrated payment processing functionality within iPatientCare's Practice Management Solutions. It enables physician offices to accept credit and debit card payments effortlessly. Furthermore, practices offering payment plans and recurring payments will benefit greatly from the Decline Minimizer service. When accepting these payments, offices regularly experience declines due to new card issuance from lost, stolen or expired cards. Every month, operations must track down declined transactions, resulting in added costs and negative cash flow. Decline Minimizer is a completely automated card updating service, significantly reducing the impact of declined transactions to improve cash flow and streamline operations.
OpenEdge president, Eddie Myers, commented, "Our partnership with iPatientCare allows streamlined and innovative payment options for physicians' offices and simple, secure payments for patients. We're pleased to once again support iPatientCare at NUCON."
"iPatientCare is pleased to have OpenEdge as one of the Sponsors/Exhibitors of iPatientCare NUCON 2014 and its integrated technology that can help iPatientCare PMS users to Maximize Practice Profitability at NUCON 2014", said Pranav Patel, General manager at iPatientCare.
About iPatientCare:
iPatientCare, Inc. is a privately held medical informatics company based at Woodbridge, New Jersey. The company's unified product suite that include Electronic Health/Medical Record and integrated Practice Management/Billing System, Patient Portal/PHR, Health Information Exchange (HIE), and mobile point-of-care solutions for both ambulatory and acute/sub-acute market segments. iPatientCare has been recognized as a preferred/MU partner by numerous Regional Extension Centers (REC), hospitals/health systems, and academies, and additionally, has been designated as a Test EHR by the CMS.
iPatientCare EHR 2014 (2.0) has received 2014 Edition Ambulatory Complete EHR certification by ICSA Labs, an Office of the National Coordinator-Authorized Certification Body (ONC-ACB), in accordance with the applicable eligible professional certification criteria adopted by the Secretary of Health and Human Services (HHS).
Full certification details can be found at ONC Certified Health IT Product List.
iPatientCare Inpatient EHR 2014 (2.0) Received ONC HIT 2014 Edition Complete EHR Certification from ICSA Labs, determines ability to support eligible hospitals with meeting meaningful use stage 1 and stage 2 measures required to qualify for ONC Health IT funding under the American Recovery and Reinvestment Act (ARRA).
Full certification details can be found at ONC Certified Health IT Product List.
The ONC 2014 Edition criteria support both Stage 1 and 2 Meaningful Use measures required to qualify eligible providers and hospitals for funding under the American Recovery and Reinvestment Act (ARRA).
Visit http://www.iPatientCare.com for more information.
About OpenEdge:
OpenEdge helps software developers and businesses succeed by delivering secure and personalized payment solutions. As the integrated technologies division of Global Payments Inc., we are driving payments innovation – adapting, scaling and simplifying how payments are processed, across platforms and points-of-interaction, in an increasingly complex landscape. OpenEdge serves more than 2,000 technology partners across 60 industry verticals throughout the United States and Canada. Learn more at openedgepay.com