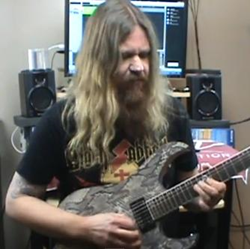 (PRWEB) October 20, 2014
Darrin begins this lead guitar lesson by performing the lick at tempo so you can hear how it should sound and then breaks it down so you can easily follow along. The lick is based out of the A minor pentatonic scale and incorporates the techniques of; bending, hammer-on's, pull-off's and pinch harmonics. Darrin demonstrates the lick as follows; 7th fret of the 3rd string with 3rd finger bent up one whole step followed by barring first finger across the 5th fret of the first and 2nd strings and then back to the 7th fret of the 3rd string to the 5th fret with first finger to the 7th fret of the 4th string with 3rd finger and then back to the 5th fret of the 3rd string. Next is an pinch harmonic on the 7th fret of the 3rd string with 3rd finger bent and released twice followed by quickly hammer-on's and pull-off's on the 4th string from the 5th to the 7th frets with first and 3rd fingers. Guitar TAB's are available for this lead guitar lesson at GuitarControl.com.
The Pentatonic Scale is a musical scale with five notes per octave. They can be found all over the world and are the main scale used in the Blues genre.
Steven Siro Vai, aka Steve Vai is an American guitarist, songwriter and producer from Carle Place, New York. Vai began his career transcribing music for Frank Zappa and later a guitarist for him. Over the course of his career he has performed with the likes of David Lee Roth, Whitesnake and Alcatraz and has released 8 solo albums and won three Grammy Awards.
Darrin Goodman
Darrin Goodman, a native of Ogden Utah, began playing guitar at the age of 12 after hearing KISS at an earlier age. Darrin has been a local finalist for the King of the Blues contest and is the lead guitarist of international recording artist Sonic Prophecy who has performed with artists such as Accept, Sabaton Cinderella and Ratt. Darrin has been teaching private lessons to 30 to 60 students a week from his home studio since 1987.
About GuitarControl.com
GuitarControl.com is the leader in modern guitar instruction. It's packed with recourses including articles, video lessons, and the best videos in the business for the beginner to the advanced guitar student taught by the best instructors out there. Weather you are into the blues, rock, jazz, metal, folk, or anything in between, they have you covered.