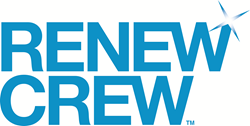 Renew Crew is proud to partner with NADRA as a sponsor and educational guest.
Richmond, VA (PRWEB) October 20, 2014
Renew Crew, North America's most trusted name in environmentally friendly outdoor cleaning, sealing and protecting services will be live and in person attending the 2014 Remodeling Show and Deck Expo hosted by JLC Live. The event kicks off on Wednesday, October 22nd with educational seminars and networking events throughout the day. On Thursday and Friday the Remodeling Show and Deck Expo exhibition hall opens to hundreds of visitors sharing the latest trends, innovations and best practices for existing professionals and budding entrepreneurs.
"Renew Crew has seen great success as an exhibitor in past years. The team looks forward to discussing the opportunities currently available in several key markets throughout the United States with attendees later on this week"; stated the founder of Renew Crew, Stan Krempges.
Renew Crew is one of the hundreds of exhibitors who will be in attendance at this years convention greeting guests at their booth located in spot 3208. "Last year Renew Crew had the pleasure of being one of the many exhibitors at the Chicago show. This year Renew Crew is proud to have an opportunity to host an educational seminar with our friends at NADRA"; shared Marketing Coordinator for Outdoor Living Brands, Shemar Pucel.
"The team wanted to make sure there were additional opportunities to share the secrets of Renew Crew with guests outside of the exhibit hall. When NADRA contacted Renew Crew regarding the opportunity the team was thrilled to be one of their special guests. Stan Krempges the founder of Renew Crew will host a seminar we titled EUREKA! on Friday morning at 11:30 AM. The seminar is an open event and Stan will spend a fair amount of time answering questions and discussing why providing annual maintenance is important to ensuring the safety of outdoor decks and how adding such services can help increase a businesses profitability"; Shemar Pucel stated. To register for the educational seminar guests should visit the NADRA website for more information and a full list of educational opportunities.
Renew Crew's Stan Krempges will also be a featured interviewee on Home Talk USA , the nationally syndicated radio program, webcast and podcast that discusses and provides information on many topics concerning the home and home improvement industry. The interview will be held on October 23rd at 10:40 AM and will be available for download on the Home Talk USA website.
"Renew Crew is thrilled with the added exposure we have received this year and look forward to sharing success stories following the show"; said Stan Krempges.
To register and attend the 2014 Remodeling Show and Deck Expo or to obtain more information about the expo please visit http://www.remodelingdeck.com/Attendee/Home. For additional information about Renew Crew you may visit their website at http://www.renewcrewfranchise.com