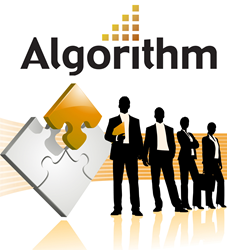 Algorithm is very excited about adding such an experienced trio to the team. We look forward with continued optimism to what 2015 will bring.
Dublin, Ohio (PRWEB) October 23, 2014
2014 has been a productive and successful year for Algorithm. Facing increasing demands and an upward trajectory in line with Exact Macola's go to market strategy, the Algorithm team is proud to announce the launch of its new website, and to welcome its newest team members, Kristin Christian, Michele Rojek, and Carl McKinney.
Kristin Christian brings over 10 years experience in ERP system management and implementation projects. Her special focus has been in streamlining operations across all departments. She has launched from her office in Minnesota, and as Algorithm's Business Application Consultant, Kristin works closely with clients in consulting, configuration, training, and support for all the Exact software products as well as third party add ins including Pulse and WiSys.
Michele Rojek has deployed technology solutions for the past 10 years for small and medium sized businesses as an Exact Systems Consultant and Sales Engineer. Michele serves as a Senior Account Manager at Algorithm, identifying and providing the most effective technology solutions for Algorithm clients.
Carl McKinney draws from a rich history of project management and sales working with the enterprise integration team at Apple, Inc. As an Account Manager at Algorithm, Carl is responsible for the delivery of measurable change to the bottom line of customers he represents.
"Algorithm is very excited about adding such an experienced trio to the team. We look forward with continued optimism to what 2015 will bring," said Mike Oswalt, CEO Algorithm, Inc.
Algorithm's updated website launched in September with a key focus on the visitor experience. In response to the spike in demand for ERP solutions, Algorithm took their website to the drawing board and planned a new increasingly user friendly layout. Visitors will notice more than just an improved look; information is organized in an optimum time-saving format, and, Algorithm's support services are easier than ever to utilize. Existing customers and new prospects alike will find the updated website to be helpful and informative.
As a partner and reseller of Exact Macola, Algorithm is at the right hand of a new era in ERP software. Exact Macola recently unveiled the launch of Exact Macola 10, designed to provide a modern user interface, increased user configurability, and role-based workspaces and ease of third-party integration. Algorithm's Exact Macola experts have been serving small businesses and midsize companies since 1993. Drawing from real world experience, Algorithm knows first hand what the capabilities of Exact Macola 10 will bring to businesses.
With these developments, and Exact Macola's revitalized vision of becoming the #1 market leader in the ERP software, Algorithm has expanded its team in preparation for what lies on the horizon in 2015. In 2014, Algorithm has added seven new employees including Account Manager Michael Massaroni, Account Manager Jeff Jenkins, Integration Consultant Jerry Kurtz, Network Service Manager Jeremy Williams, Business Application Consultant Kristin Christian, Senior Account Manager Michele Rojek, and Account Manager Carl McKinney. The Algorithm team has a full roster and is ready, more than ever, to help businesses meet the demands of an increasingly complex and challenging business world.