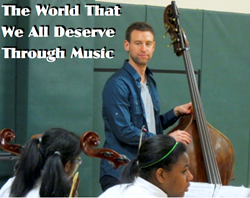 They are the future, and the entire world is in their hands. -Ranaan Meyer
Philadelphia, PA (PRWEB) November 18, 2014
With the fame and prominence of Time for Three on the rise, co-founder and bassist Ranaan Meyer continues to find time in his hometown of Philadelphia to promote his unique style of music. Difficult to categorize, but easy to love, this style seamlessly blends genres as apparently diverse as hip-hop, jazz, funk, Celtic, classical, and many points in between. Meyer's strategy to establish this music as the future? Give it to the students who can't afford it, and make sure they get it for free.
Listen to music from The World That We All Deserve Through Music
By working with private donors and foundations like the WTEF Foundation and the American Composers Forum, Meyer's program - The World That We All Deserve Through Music - presents 10 new works written expressly for student ensembles, mostly located in underserved schools in Philadelphia, to help students "bridge the gap between the music they listen to at home and the music they study in school." Working with Philadelphia institutions Play On Philly and Musicopia, Meyer has written this music to both reflect the character of the ensembles that will perform it and to show them that Beethoven and Coldplay have more in common than most people think.
According to Meyer, "When orchestras or bands play music they think people want to hear, the so-called 'Pops' repertoire, they are usually simplifying and dumbing down the challenges of traditional masterpieces. When we eliminate the element of classical music that makes it so effective and powerful, what I call 'classical counterpoint,' we're also taking away the integrity of the music. The challenge is to find a way to write music that resonates with a modern audience, but to do it in a way that is as artistically fulfilling to the players as it is satisfying to listen to. That's where The World program comes into play."
Throughout the winter and spring, and with plans to expand and continue to other regions, Meyer will be working with the ensembles for whom he has written the new pieces, as well as several schools who will give the music a second performance. Meyer's goal is to impart a powerful lesson to these students: Music supplies you with limitless potential. "When you first pick up an instrument, or first begin to sing, or hit a wooden spoon against a pot in your parents' kitchen, there are so many possibilities ahead of you," says Meyer. "The little technical challenges that lie between you and making the music you want to make all can be overcome. Anybody can achieve anything they want in music, and applying that perspective to your life is the most powerful mental shift anyone can make. That's what I need these young people to understand. They are the future, and the entire world is in their hands."
Beginning with Washington Township's District Orchestra Festival in January, Meyer will be working with students throughout the region. To view event details, to send a tax-deductible donation, or to share your support, visit The Education We All Deserve website.