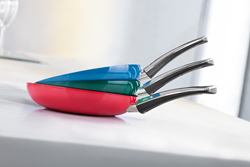 Lima, Ohio (PRWEB) October 21, 2014
Berndes Cookware known for quality cookware making a difference offers different styles of cookware acquired to fit the Perfect, Professional, or Special tailored tastes in cooking tool preferences.
The Berndes Cookware Specials show the bold new colors red, green and blue exterior with a sleek metallic interior. Constructed of forged aluminum in a cast-look, the bottom is designed with an enhanced durable induction bottom for optimal cooking results. The interior cooking surface is coated with a non-stick coating emphasized for low-fat cooking. The exterior also has a coating for easier cleaning. Cookware is 100% PFOA-free. The handle is stainless steel and phenolic handle with flame guard.
Both the Fry Pan and Sauté Pans are compatible with Gas, Electric, Glass Ceramic, Halogen and Induction ranges.
For more information on Perfect, Professional and Special cookware go to http://www.berndes-cookware.com.
About Berndes
Berndes has developed produced and distributed cookware since 1921 and is the largest pan manufacturer in Germany, as well as the world-marketing leader in nonstick coating cookware made of cast aluminum. The high quality, award-winning range made of cast aluminum, spun aluminum and stainless steel is exported worldwide and has been distributed through qualified channels for decades.
With a marketing strategy that focuses on people with an affinity for cooking and appeals to the emotions, Berndes is set for success. As has always been the case, production is carried out at the company headquarters in Arnsberg, Germany. These processes only use materials that do not affect the environment, resources or health. The in-house test laboratory conducts continual quality controls accompanying production. Neutral test institutions both attest the company's high quality standards repeatedly domestically and abroad.