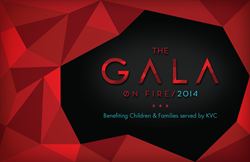 Olathe, KS (PRWEB) October 23, 2014
KVC Health Systems is pleased to announce it will host The Gala on Fire on Friday, November 21 at the Historic Firestone Building in downtown Kansas City, Mo. to benefit more than 3,100 local children in foster care and their families that are served by KVC every day throughout the year. KVC cares for more than 50 percent of the children in the Kansas child welfare system and also serves children in need at its Prairie Ridge Psychiatric Hospital in Kansas City, Kan.
The Gala is an upscale party that combines decadent food (oysters on an ice bar), specialty drinks (might be flaming), artist demonstrations, unique performances by MoonDrop Circus, and live music from Atlantic Express. Think lots of 'Fire,' thanks to MoonDrop and the caterer, and lots of 'Ice', thanks to event chairs: Bonne Illig and her team at VanBrock Private Jewelers. Guests will also enjoy live artist demonstrations from Allan Chow and Rebecca Pashia; both are graciously donating the masterpieces they create during the event.
Tickets are $150 per person with a limited number of discounted tickets available for guests under age 30. The Historic Firestone Building is located at 2001 Grand Boulevard in Kansas City, Mo., and complimentary event valet is provided. The Young Friends of KVC invite guests to join them at the after- party across from the Firestone Building at The Cashew, which is donating 10 percent of proceeds to KVC.
Event lead sponsors include: VanBrock, Anthem Media, Bank of Blue Valley, Garmin, the Darol Rodrock Foundation, Holmes Murphy, IMA, JE Dunn Construction, along with Farmer's Insurance Group, Hen House Markets, the Kansas City Royals in partnership with KCP&L, Sara Van Allen of Keller Williams Realty Partners, Metcalf Bank, The Pitch, Guy I. Bromley Trust, AC Printing Co., Enterprise Fleet Management, Lockton, Olathe Chamber of Commerce, Olathe Health System, Validity Screening Solutions, Tom & Cynthia Ryan, Debbie Simpson, Walker Medical Linen Services, Renny & Mark Arensberg, Bellarri, Terry & Peggy Dunn, Foulston Siefkin, LLP, Susan & John Goodman, Jan & Steve Howard, MarksNelson, Professional Nursing Services, Reactor Design Studio, Seigfreid Bingham, and Worksite Benefit Associates.
For more information, visit http://www.kvc.org/thegala or contact Lauren Anderson at leanderson(at)kvc(dot)org.
###
About KVC Health Systems, Inc.
KVC Health Systems, headquartered in the greater Kansas City area, is a private, nonprofit 501(c)3 organization committed to enriching and enhancing the lives of children and families by providing medical and behavioral healthcare, social services, and education. KVC's diverse continuum of services includes foster care, adoption, in-home family therapy, behavioral healthcare, and children's psychiatric hospitals. In its 44-year history, KVC has grown since from a single home for boys to a national organization serving tens of thousands of children in five states. Due to KVC's leadership in the use of evidence-based research to achieve better outcomes and advance child welfare, the Annie E. Casey Foundation has endorsed KVC as a national best-practice organization. Learn more at http://www.kvc.org.