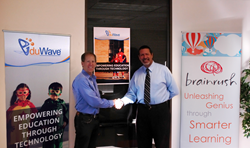 We both strive to provide the highest level of individualized education
Palo Alto, California (PRWEB) October 22, 2014
Today an exciting partnership has been revealed that will bring fun, individualized common core learning to students around the world. ITG America will be partnering up with one of the most innovative educational game developers in the United States. Together they will be able to integrate this supercharged teaching method into the EduWave™ Learning Management System making BrainRush even more accessible and beneficial.
BrainRush has developed an innovative method of teaching Common Core materials through fun and adaptive educational games. With their ever growing library of games teachers are sure to find something that will fit with their curriculum and even if they can't, BrainRush offers the tools to create custom games. As we all know practice makes perfect and with their Adaptive Practice™ technology, BrainRush keeps student captivated while they participate in rapid-fire practice that adapts to their needs.
By integrating all this power into the EduWave platform students and teachers will have seamless access and tracking incorporated into their LMS. Not only will teachers be able to keep track of the time their students spend practicing each subject but they will also be able to link these games to other lesson content to provide a richer learning experience. With EduWave's Smart Teacher™ functionality, the combined system will adapt to students' knowledge in order to make sure they are always learning at an optimized level, as well as suggest other materials to expand on their knowledge.
At the core, BrainRush and EduWave have very common beliefs and goals. They both strive to provide the highest level of individualized education through technology and together they are likely to do even more to push the limits of education. Alain De Coninck, the Managing Director of ITG's US office said "Our goal is to give teachers, students, administrators and parents the tools and tracking they need to ensure a successful learning experience."