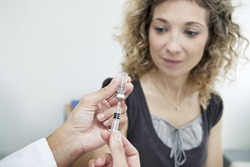 The 1918 outbreak of Spanish Flu killed 675,000 Americans in one year
Madison, Wisconsin (PRWEB) October 22, 2014
It's easy to make excuses for not getting a flu shot. Most people don't want to subject themselves to a needle stick when they feel healthy. A number of myths about the safety and effectiveness have also made it easy to make excuses for not getting protected. However, the CDC recommends that everyone – with very few exceptions – get a flu shot. Vaccination is an important step in the prevention of flu in addition to a flu shot this winter.
5 Flu Shot Myths Busted
While a fear of needles probably plays the largest role in avoiding the flu shot, there are plenty of unwarranted reasons people have for avoiding what could be a health-saving vaccine.
1. The flu shot makes you sick. While some may have a sore shoulder or a stuffy nose, the flu shot cannot infect someone with influenza or the cold.
2. The flu is not dangerous. While it's true that most cases of influenza aren't life-threatening, people still miss work and school. The elderly and those with compromised immune systems can face numerous other more serious complications. And most importantly – influenza can be very dangerous. The 1918 outbreak of Spanish Flu killed 675,000 Americans in one year, according to Flu.gov.
3. The vaccine's side effects can be deadly. The flu shot produces few if any side effects and they are usually mild. However, patients should talk to their doctors if they have certain food or medicine allergies or other concerns about the shot.
4. I had a flu shot last year. Strains of influenza change each year and immunity declines over time. For the best protection, an annual immunization is needed.
5. The flu shot hurts. For those afraid of the needle, most have the option of a nasal spray or an intradermal trivalent shot, which uses a much smaller needle. For those who don't qualify for other methods – tough it out. The pain from even a traditional shot is minimal and well worth the protection.
Add to Your Arsenal of Flu Defense This Winter
In addition to getting a flu shot, there are some things that can be done to reduce virus transmission even more. A whole-home air purifier can help trap airborne virus particles in the house when they travel through duct work.
A whole-home humidifier can also help reduce flu infection in the winter in two unique ways. According to The American Academy of Otolaryngology, dry air makes people more susceptible to illness because the nose becomes less effective at filtering the air helps in addition to a flu shot. The viruses that cause colds and flus also thrive in dry environments. The process of heating a house in the winter reduces the indoor relative humidity, causing health and comfort issues.
According to a report on the role of RH in the aerosol transmission of influenza, researchers concluded that "maintaining indoor relative humidity of greater than 40 percent will significantly reduce the infectivity of aerosolized [influenza]."
About Aprilaire:
We have been a brand leader in IAQ for more than 60 years, delivering a wide range of whole-home systems that improve comfort, health and energy efficiency. Our brand products are sold through and installed by HVAC contractors across the United States and Canada. Visit Aprilaire.com to learn more about whole-house air cleaners and total comfort solutions to purity, humidity, freshness and temperature. Find us on Facebook at facebook.com/Aprilaire.