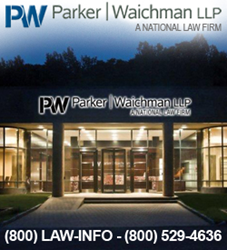 "Parker Waichman LLP is troubled by the matter involving the allegedly defective ignition switches associated with GM vehicles and is available to offer free lawsuit consultations ... said Gary Falkowitz, Managing Attorney at Parker Waichman
Port Washington, New York (PRWEB) October 20, 2014
Parker Waichman LLP, a national law firm dedicated to protecting the rights of consumers, notes that $10 billion in claims were just filed against car maker giant, General Motors LLC (GM). The cases are In re: General Motors LLC Ignition Switch Litigation, case number 1:14-md-02543, in the U.S. District Court for the Southern District of New York and include two consolidated New York federal complaints; one of these includes a class action lawsuit. Issues involve alleged defects including the deadly ignition switch and alleged violations of state consumer protection statutes, breach of implied warranties, fraud by concealment, unjust enrichment, as well as other claims involving more than 60 recalls affecting GM-branded vehicles sold in the United States from model years 1997 to 2014.
The proposed class action seeks damages for a class of consumers and used-car dealers, that include those who own or have owned or leased a new or used GM vehicle sold between July 11, 2009, and July 3, 2014. The second consolidated lawsuit involves cars purchased or leased prior to the car maker's bankruptcy. The putative class action explains GM's allegedly "unprecedented abrogation of basic standards of safety, truthfulness and accountability to the detriment of tens of millions of consumers and the public at large…. The systematic concealment of known defects was deliberate, as New GM followed a consistent pattern of endless 'investigation' and delay each time it became aware of a given defect," according to court documents encompassing some 700 pages.
When consumers have purchased a vehicle that has been recalled, consumers may be entitled to some type of remedy or compensation. Should the defect that led to the recall be associated with an accident, injury, or death, compensation may be greater than simply taking the vehicle in for a repair, Parker Waichman LLP notes.
At least 27 deaths have been blamed on the vehicles' defects, according a claims report released by Kenneth Feinberg, the attorney who oversees the compensation fund for victims of crashes stemming from the defect, according to an October 13, 2014 report issued by Reuters.
The primary class action covers all GM vehicles sold after the bankruptcy proceedings and accuses GM of misrepresentation, concealment, and non-disclosure of a number safety defects. The second consolidated complaint seeks compensation for GM car owners whose vehicles suffered from ignition-related safety defects that might allegedly cause ignition switches to move out of the "run" position and into the "accessory" or "off" position when driving. This leads to a power loss and loss of control over vehicle speed and braking, and airbag deployment failure. (In re: General Motors LLC Ignition Switch Litigation, case number 1:14-md-02543, in the U.S. District Court for the Southern District of New York)
"Parker Waichman LLP is troubled by the matter involving the allegedly defective ignition switches associated with GM vehicles and is available to offer free lawsuit consultations to consumers who have purchased GM vehicles that were manufactured with a defective ignition switch," said Gary Falkowitz, Managing Attorney at Parker Waichman LLP.
For more information, please visit the firm's GM Ignition Recall page at yourlawyer.com. Free case evaluations are also available by calling 1(800) LAW-INFO (1-800-529-4636).