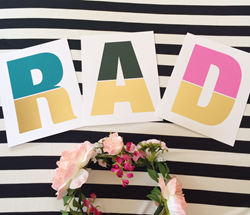 We've been working with gold foil for a while now, but never have we used it in such a dominant way" –Haily Meyers, Creative Director
Scottsdale, AZ (PRWEB) October 21, 2014
Lucy Darling, an innovative baby brand, is known for setting trends. The brand looks ahead, sees what's new in fashion, home décor, color and illustration, and incorporates trend into their product design. It's for this reason gold alphabet prints are the perfect addition to Lucy Darling's product assortment.
"Gold is everywhere. It's all over fashion, in jewelry, accessories, home décor. I wanted to design something that incorporated this trend, but stayed true to our DNA as baby brand. That's when the idea of alphabet letters, half gold, came to mind. We've been working with gold foil for a while now, but never have we used it in such a dominant way" – Haily Meyers Creative Director
The original idea for individual alphabet letter prints stemmed from numerous customers asking if Lucy Darling creates customized artwork that includes a child's name. Although Lucy Darling isn't in the business of customization, Haily Meyers, Creative Director, felt individual alphabet letters could be the brand's answer to these customer inquiries. Instead of full names, mom's can use the individual letters to represent the child's name in a stylish and modern way. Essentially the prints can become a monogram, a trend moms are excited about.
Lucy Darling gold alphabet letter art prints launched October 5, 2014. The prints are made in the USA from responsibly sourced paper using an eco-friendly printing process with soy-based inks and gold foil. The prints come in 1 size, 8x10, and retail for $19.99.
In 2014, Lucy Darling added two unique products to its brand, art prints and closet dividers. They will continue to grow their product assortment with plans to add more products by mid-2015.
About Lucy Darling
Lucy Darling offers baby milestone stickers, art prints for nurseries and nursery closet dividers. They design all of their own product and print locally in the USA. From monthly baby stickers to nursery art prints, pregnancy belly stickers to closet dividers, Lucy Darling is thrilled to offer unique and high-quality products at affordable prices. Visit http://www.lucydarlingshop.com.