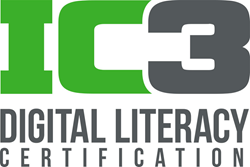 Baltimore, MD (NASDCTEc Fall Meeting) (PRWEB) October 20, 2014
Certiport (http://www.certiport.com), a Pearson VUE business, the leading test delivery solution provider for the global workforce and academic markets, today announces the National Coalition of Certification Centers (NC3) has endorsed Certiport's IC3 (Internet and Computing Core Certification) Digital Literacy certification as the digital skills component for their set of stackable credentials that lead towards careers in transportation, aviation, energy and manufacturing.
NC3 was established to address the need for strong industry partnerships with educational institutions in order to develop, implement and sustain industry-recognized certifications that have strong validation and assessment standards. The IC3 Digital Literacy certification fits into the NC3 mission by providing a global standard for digital skills in three key areas – Computing Fundamentals, Key Applications and Living Online.
"IC3 provides a base for the NC3 set of stackable certifications that will help individuals entering the transportation, aviation and energy field prepare for today's digital work environment," said Roger Tadajewski, executive director of NC3. "Computers are being integrated into these careers at a rapid pace, and we have to keep up. Schools training the next generation of technicians are wrongly assuming youth today have digital skills. The fact is they lack the specific knowledge and skills they need to perform in these careers, and we want to help prepare them better."
To demonstrate the need for technology skills in transportation, new luxury cars have more than 300 computers in them. Bob Kennedy, associate professor of technology at the New England Institute of Technology says that older technicians are leaving the field because they do not have the technical skills required. "Even parts catalogs are no longer being printed because we are expected to find them online," said Kennedy. "The next generation of automotive technicians needs to have computer skills to perform on the job."
IC3 is a turnkey, globally accepted standard that defines the digital skills needed in the workforce today. When an individual passes the three IC3 exams they demonstrate they have the digital skills they need for these jobs with a verifiable credential on their resume. NC3 will be working closely with Certiport during the upcoming year to introduce and explore the broad implementation of IC3 Certifications among select leadership schools within the NC3 coalition.
"We are pleased NC3 has seen the value of IC3 Digital Literacy certification in these fields – we believe it should be a base certification for any individual," said Nich Haber, who manages the IC3 business for Certiport. "Basic technology skills are no longer a bonus – they are required to be a productive member of the workforce. This partnership will give more students access to the IC3 credential, making them more attractive for jobs and internships in their chosen field."
About Certiport
Certiport, a Pearson VUE business, is the leading provider of certification exam development, delivery and program management services delivered through an expansive network of over 12,000 Certiport Authorized Testing Centers worldwide. Certiport manages a sophisticated portfolio of leading certification programs including: the official Microsoft Office Specialist certification program, the Microsoft Technology Associate certification program, the Microsoft Certified Educator program, the Adobe® Certified Associate certification program, the HP Accredited Technical Associate, the CompTIA Strata™ IT Fundamentals, the Autodesk Certified User certification program, the Intuit QuickBooks Certified User certification program, and the IC3 Digital Literacy certification. Certiport reliably delivers over three million tests each year throughout the secondary, post-secondary, workforce, and corporate technology markets in more than 148 countries and 27 languages worldwide. For more information, please visit http://www.certiport.com or follow Certiport on Twitter at http://www.twitter.com/certiport.
"Certiport" and "IC3" are registered trademarks of Certiport, Inc. in the United States and other countries. The names of actual companies and products mentioned herein may be the trademarks of their respective owners.