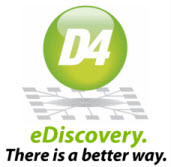 The addition of SDS and their experienced staff continues D4's national growth and gives us additional resources to service our Chicago customers
ROCHESTER, NY and CHICAGO, IL (PRWEB) October 21, 2014
D4, LLC, a national provider of eDiscovery, forensics, deposition and managed services to law firms and corporate legal departments, announced today its further expansion in Chicago and the Midwest with the acquisition of Strategic Document Solutions, INC (SDS). With this acquisition, D4 will strengthen its resources in delivering our full depth of services to more Chicago based law firms and corporations.
"The addition of SDS and their experienced staff continues D4's national growth and gives us additional resources to service our Chicago customers," said John Holland, founder and CEO of D4. "We are really looking forward to having Gene and Matt, co-founders of SDS and their team, join the D4 family. "
SDS was founded in 2008 by Eugene Tenuta and Matthew Simpson. Gene and Matt have 30 years combined experience in the document management and litigation support industry. SDS currently focuses on a wide variety of paper and electronic discovery services. This acquisition adds additional expertise and resources to D4's existing Chicago presence.
"We are excited to become part of the D4 family," said Gene Tenuta, former Co-founder of SDS and D4's new Associate Managing Director. "Our combined resources will enhance our service offering to clients in the Chicago and Midwest market, giving them one company to turn to for all their discovery needs."
The entire SDS staff will be joining the D4 team as part of the company's Chicago office.
About D4
D4 is a leading national provider of electronic discovery, computer forensics, litigation support and deposition services to law firms and corporations. D4 was one of the first providers to offer an eDiscovery Managed Services solution, eNtrust, which launched in 2011. D4 has been instrumental in helping customers realize up to a 70% cost reduction over previous eDiscovery solutions. The company's state-of-the-art data center operations in Rochester are complemented by electronic discovery and litigation support offices throughout the country. D4 has been recognized by Inc. Magazine as one of the fastest-growing private companies in the US for four consecutive years. Please contact marketing@d4discovery.com or visit http://www.d4discovery.com for more information.