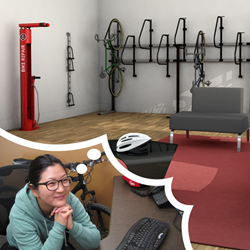 We strive to continue to become even more bike-friendly and winning the Dero Dream Bike Room contest moves us in that direction.
Minneapolis, MN (PRWEB) October 21, 2014
Dero is proud to support the dream bike rooms of two nonprofits: BikeTexas opts for an outdoor "bike room" for events around the State of Texas, while Green Building Alliance (GBA) will create its indoor bike room at its Pittsburgh, Pennsylvania office.
Earlier this year, BikeTexas and GBA entered the Dero Dream Bike Room Pinterest contest to win $7,500 in Dero products, plus $1,000 to decorate the winner's dream bike room. In May 2014, BikeTexas was declared the winner via public online voting. While working on layouts and logistics, Dero and BikeTexas realized that an indoor bike room would not meet this bicycle advocacy organization's needs. BikeTexas envisioned an outdoor "bike room" that would support its many events. Dero generously donated Dero Event Racks to BikeTexas, which will accommodate temporary bike parking for 400 bicycles.
"This will bring BikeTexas' event bike parking capacity to 500, helping to welcome the hundreds of people on bikes who attend Texas festivals, like our inaugural Austin BikeFest this October 25," said Robin Stallings, Executive Director of BikeTexas. "We're so glad Dero was able to work with us to create our vision of a dream bike room to serve numerous communities around the state."
As the runner-up to the Dero Dream Bike Room contest, Dero gave Green Building Alliance the opportunity to receive the original prize. Dero is happy to announce that GBA accepted and both will work together to design GBA's dream bike room at its office in Pittsburgh, Pennsylvania. Last month, the League of American Bicyclists recognized Green Building Alliance with a Bronze Bicycle Friendly Business (BFBSM) award.
"The timing works perfectly with GBA's plan to expand its office later this year. We strive to continue to become even more bike-friendly and winning the Dero Dream Bike Room contest moves us in that direction," declared Mike Schiller, CEO of Green Building Alliance. "Furthermore, GBA hopes to inspire similar commitments to bike-friendliness from our neighbors in the building and across the greater Pittsburgh region," says Schiller.
Read official Dero Dream Bike Room contest rules at http://www.dero.com/dreambikeroom.
About Dero
Since 1995, Dero has been supplying innovative bike parking and bicycle transit solutions to architects, contractors, municipalities, higher education, and parks and rec. Its bike racks, repair stands and pumps, shelters, and lockers are high quality, thoughtfully designed and secure. Dero also offers the award winning Dero ZAP, an automatic system to track bike commuters. Dero is located in Minneapolis and is proud to support biking locally and nationally. Learn more at http://www.dero.com.
About BikeTexas
BikeTexas is a statewide nonprofit association that advances bicycle access, safety, and education. BikeTexas encourages and promotes bicycling, increased safety, and improved conditions. It unites and inspires people and provides a cohesive voice for people who ride bikes in Texas. Learn more at http://www.BikeTexas.org.
About Green Building Alliance
Green Building Alliance (GBA) is a nonprofit organization that inspires the creation of healthy, high performing places for everyone. Founded in 1993 as one of the first U.S. Green Building Council affiliate organizations, and now a USGBC chapter, GBA is headquartered in Pittsburgh and serves the 26 counties of Western Pennsylvania. GBA's main initiatives include the Pittsburgh 2030 District, the Green & Healthy Schools Academy, DASH, and the Knowledge Network. Learn more at http://www.go-gba.org.