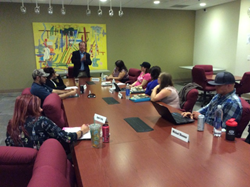 SIGNAL PEAK, AZ (PRWEB) October 28, 2014
Northern Arizona University's (NAU) Public Budgeting and Finance (PADM 327) class, taught at Central Arizona College's (CAC) Corporate Center through the Weekend College, invites prominent community leaders to speak to students about real-world examples of public budgeting.
Taught by Dr. Edward Ackerley, this course overviews budgeting theories, techniques and decision-making in the public sector.
Most recently, CAC president Doris Helmich spoke to the class about higher education costs and funding cuts.
In addition, Casa Grande City Manager Jim Thompson and Arizona State Representative Frank Pratt each delivered a guest lecture in the course.
Dr. Ackerley describes his teaching method as "Edutainment"– a phrase used to describe an education and entertainment hybrid. Guest speakers like Helmich, Pratt and Thompson help students learn through storytelling.
"It's important to make the curriculum come alive for students," says Dr. Ackerley. "In turn, it becomes meaningful to them in their own lives."
The partnership between NAU and CAC, established in 1995, allows students to take bachelor's degree classes, including PADM 327, on a CAC campus or online. Students are part of NAU's BIS 90/30 Weekend College program held at CAC.
"We need our educated residents to stay in Pinal County to attract industry," says Helmich. "The CAC-NAU partnership helps us accomplish this goal."
About The Extended Campuses of Northern Arizona University: For more than 30 years, the Extended Campuses of Northern Arizona University has delivered a respected, accredited and affordable university education to students wherever they want to learn. Non-traditional students, including working adults, are empowered to advance personally and professionally through a network of more than 30 satellite campuses throughout Arizona and extensive online options offering over 100 degrees, certificate and endorsement programs across various disciplines. NAU-Extended Campuses continues to introduce innovative educational options to fulfill the growing need for public administrators, health professionals, teachers, business experts and community leaders within the state of Arizona, and beyond. To learn more about The Extended Campuses at Northern Arizona University, go to http://www.nau.edu/extended.