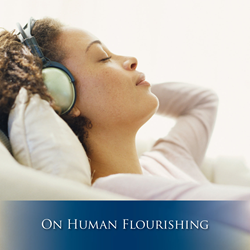 Alexandria, Va. (PRWEB) October 22, 2014
In a new podcast launched on Oct. 21, Samueli Institute will discuss health and the future of health care through bi-monthly interviews with innovators and thought-leaders from a variety of backgrounds in science, medicine, military and veteran care and integrative medicine.
Hosted by Samueli Institute President and CEO Wayne Jonas, MD, On Human Flourishing is available through iTunes, Samueli Institute's blog and on YouTube. The first episode will feature an interview with Jean Watson, PhD, founder and director of the Watson Caring Science Institute. Dr. Watson has focused her career on the theory of caring environments that can influence a patient's healing just as other treatments. Her research is focused on patient-centered care and has applied Samueli Institute's Optimal Healing Environment framework to her practice.
"'On Human Flourishing' is an exciting new outlet for listeners in a variety of interests to learn more about innovations in health care in military and civilian sectors," said Dr. Jonas. "As the series proceeds, we plan to engage clinicians, researchers, administrators, communicators and patient advocates to get a holistic look at the future of care."
The next scheduled episode will feature Gen. Eric Schoomaker on Monday, Nov. 3. Gen. Schoomaker is a Scholar-in-Residence at Uniformed Services University of the Health Sciences and former Surgeon General of the United States Army.
Samueli Institute is a non-profit research organization dedicated to the science of healing. For more information on Samueli Institute or Dr. Wayne Jonas, please visit https://www.samueliinstitute.org/.